We are an Amazon Affiliate
Our site is supported by you, our readers! This page contains affiliate links, which means we may earn a small commission if you click through and make a purchase - you will not pay any extra. More details
here
.
For a long time, lawn mowing has been an arduous task. While the first lawnmowers (they are cheap lawnmowers to this day) were nothing more than blades attached to wheels steadily, they have evolved over time. A few decades ago, we moved into lawnmowers that were able to propel themselves so you can easily push them across your lawn. You also have lawnmowers that are capable of riding so the task becomes like a leisurely weekend drive.
Finally, we have the newest entrance to the market with lawn mowers like the Worx WR150 Landroid L that is able to mow your lawn without any help. Of course, with these new-fangled abilities, this lawnmower also carries with it a relatively steep price when compared to the rest of the market. Continue on and you can find out if this is the right automated lawnmower for you to leave your push driven models behind.
Installation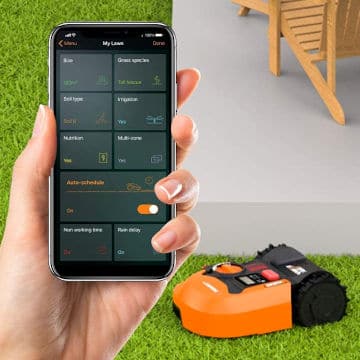 The first step to getting the works Android L running is to complete the setup. This lawnmower uses a boundary wire system in order to track its way around your lawn and return to its home base charger.
That means you will need to take the time to install the wire entirely around the inside and outside the boundaries of your home. You will want to keep in mind any special landscaping elements that you would like to avoid.
Everything you need for setting up the wire boundaries system comes in the box. Due to the mower not creating as much lift as a standard mower you can simply run the wire along the top of your grass. With help from the clips in the included kit, you can keep the wire closer to the ground so your grass grows over it. You can even bury the wire deep if you are worried as the mower can still pick it up from a 2-inch depth.
The installation process should take about four hours. Once you get the mower charging, you're almost ready to go, you can set the cutting height from 1.6 to 3.9 inches. The app also allows you to control mowing zones and set a mowing schedule plus more. Once everything is ready to go you should watch the mower in action the first time through. After the first run, it is pretty set and forget.
Design and Features
GPS is not a usual inclusion for most entry-level robotic lawnmowers. This one does have GPS enabled though in order to keep track of where the mower is. Some higher and robotic lawn mowers are able to use GPS for mapping the lawn itself. This model comes with a year of cellular data so it can give you real-time notifications along with notifying you when the mower leaves the mowing area.
It can also turn on remote locking if your mower is ever stolen. For narrow corridors, you can set specific zones so your mower can navigate them. This lawnmower reaches all the way to the edge with the inability to cut up to two inches away from any border.
This lawnmower uses a 4.0 aH battery that gives it about 2 hours of runtime while requiring an hour and 30 minutes for charging. The cutting power is pretty impressive with an ability to cut around 1/4 inch to 1/2 inch of grass at a time. You can also purchase the additional anti-collision system add on That makes use of ultrasonic waves to avoid objects. This helps when dealing with objects like garbage cans and things that the wires won't necessarily help for. This model also performs admirably when dealing with slopes with wheels that provide solid traction for up to a 35% incline.

Pros And Cons of Worx WR150 Landroid L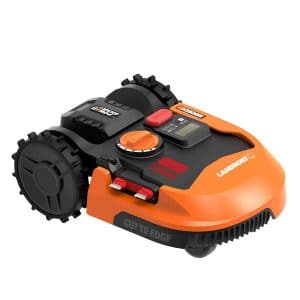 Worx WR150 Landroid Manual
Review Conclusion Worx WR150 Landroid L
Worx WR150 Landroid L Review Summary
There isn't too much to complain about here. This is a solid choice once you are willing to make the leap into buying an automated lawnmower. The Worx  Landroid L robotic lawnmower is pretty good at getting the job done. The easy installation makes it so you only need a bit of time to get things up and going.
You also save some money from the other entry-level models delivered by other brands. You might want to take a step below for the Landroid M for smaller lawns of 1/4 acre. However, at the end of the day, there isn't much to be disappointed with this powerful automated lawnmower. As long as you don't mind doing the installation yourself few robotic mowers provide more value.