We are an Amazon Affiliate
Our site is supported by you, our readers! This page contains affiliate links, which means we may earn a small commission if you click through and make a purchase - you will not pay any extra. More details
here
.
Today at Green Grass Mower, we are looking at the Husqvarna YTH18542. The Husqvarna YTH18542 is a beautiful riding mower with all the power you need to trim up your yard quickly. Like most riding mowers, this model will cost you a bit of money, but the overall performance is worth it. Keep reading below to determine if the Husqvarna YTH18542 is the perfect riding mower for you.
Husqvarna YTH18542 Riding Lawn Mower Review
Deck Size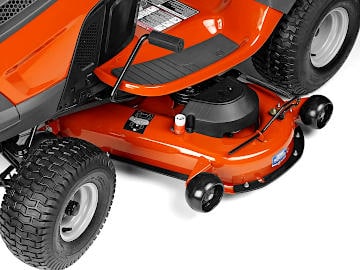 Deck size determines just how much grass a mower can cut in one go. Generally, the larger the deck size, the less time it will take you to mow your yard. If you have a yard full of trees, though, a large deck size can make maneuvering around obstacles hard.
The Husqvarna YTH18542 has a 42-inch deck size perfect for tackling medium to large yards. This mower has six different cutting heights to just from ranging 1.5 inches to 4.5 inches. Remember to check the growth of your grass before mowing to keep from cutting your lawn incorrectly.
Durability
When you are spending thousands of dollars on a lawnmower, you are going to want to use it for years to come. The Husqvarna YTH18542 body is made out of steel that will hold up to most debris and bumps. To give the deck extra protection, the company used reinforced steel to keep the blades from being damaged by debris.
We have to say in our Husqvarna YTH18542 Lawn Mower Review the seat is made out of durable, but easy to clean vinyl. Even the axles of this mower are made out of steel.
Engine & Transmission
The Husqvarna YTH18542 uses a Briggs and Stratton Intek engine with 18.5 hp to get your yard mowed fast. This is combined with a Tough Torq Hydrostatic transmission that gives the mower a max speed of 2.5 miles per hour and 3 miles per hour when going in reverse. The mower can hold 2.5 gallons of gas at once. This is a great fuel capacity that will keep you mowing for long stints of time.

Maneuverability
To ensure that you can easily maneuver around obstacles, the Husqvarna YTH18542 was built with a small turning diameter. Keep in mind that any riding mower with a larger deck is going to be hard to maneuver. If you have a cluttered yard, then the Husqvarna YTH18542 may not be the best model for you.
Weight & Size
Like any other riding lawn mower, the Husqvarna YTH18542 is going to take up quite a lot of room in your garage. The model weighs around 406 pounds making it hard to move when not cranked. The mower measures 70 inches by 50 inches by 41.4 inches. Make sure you have enough room to properly store this mower for when you're not using it.
Comes Assembled
As with most mowers, the Husqvarna YTH18542 will be completely assembled when you pick it up. If you wanted to, you could start mowing your yard right away.
Design & Comfort
The Husqvarna YTH18542 riding lawn mower was designed to be comfortable for long periods of mowing. The seat has a medium height back of 13-inches and can be adjusted to fit your needs perfectly. The seat, as mentioned above, is also made of vinyl, making it easy to clean up after you get done mowing.
If you're looking for an easier way to manage grass clippings, then you can buy an aftermarket bag or mulcher. These accessories are made by the company themselves to help customers cut down on yard care time even further.
Storage of the Husqvarna YTH18542
One of the most important parts of owning any lawn mower is making sure they are cared for properly. You will need to store the Husqvarna YTH18542 riding lawn mower in a dry shed or garage when it's not in use. You should never leave the mower out in the rain, as it will start to rust. Rusting can cut down on the mower's lifespan, causing it to give out quicker than normal.
Make sure to always check the Husqvarna YTH18542 riding lawn mower's gas and oil levels before use. You should also make sure to do yearly tune-ups to keep the engine running smoothly. Be sure to spray off any excess grass from the frame when you are done mowing and to clean the blades.
Pros And Cons of the Husqvarna YTH18542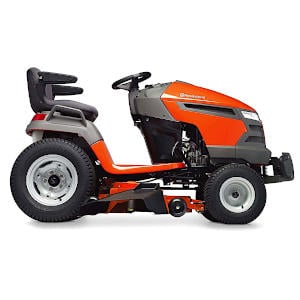 Husqvarna YTH18542 Riding Lawn Mower
Manual
Review Conclusion Husqvarna YTH18542 Riding Lawn Mower
Husqvarna YTH18542 Lawn Mower Review Summary
If you've decided to go with the Husqvarna YTH18542 riding lawn mower, then you should make sure to take note of the maintenance tips. The mower does come with a generous three-year warranty, but it can be voided with improper care. This mode is perfect for larger yards, but may not move well around lots of obstacles.
If you have a lot of clear land though, then the Husqvarna YTH18542 riding lawn mower may be perfect for you.