Electric lawn mowers are an easier way to groom your lawn. Since their invention in the 1930s, electric mowers have evolved to make mowing easier and now have a plethora of features to make lawn care more enjoyable. If you've only used a gas-powered model, then you may not realize just how different the two models are. This guide is here to help you pick an best electric lawn mower that fits the needs of your lawn.
Top 4 Electric Lawn Mowers. Editor's Choice.
We are an Amazon Affiliate
Our site is supported by you, our readers! This page contains affiliate links, which means we may earn a small commission if you click through and make a purchase - you will not pay any extra. More details
here
.
Short description of best Electric Lawn Mowers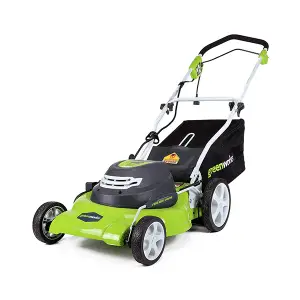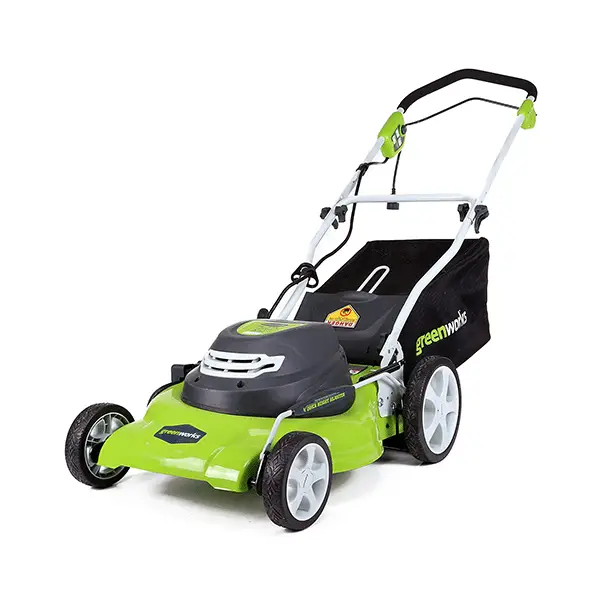 Are you looking to do your bit for the carbon footprint but still want a perfect luscious lawn? Well, we've got the lawn mower for you! The GreenWorks 20-Inch 12 Amp Corded Electric Lawn Mower is a clean energy, quiet. This mower is corded so as long as you have a plug socket and a cable, this mower will keep mowing until the world ends. The blade is superbly durable. The mower is also easy to store, being only 26.88 by 16.13 by 18 inches and with foldable handles.
This is a mower that's been on a diet. But, don't think it's weak! For its size, the 12 Amp engine packs quite the punch. This mower is like a Swiss army knife. It has a wide range of 7 different grass height cutting options and 3 different grass discharging methods! It allows you to be an artist with your lawn whilst offering you flexible ways of disposing of your clippings.
Clean, powerful, and compact! Lightweight, 3 different grass discharging methods included and 7 easy to change grass height options! It really has it all. As a lawnmower, we give it a superb 4.5/5. Read full review.
Sun Joe MJ401E-PRO Lawn Mower
The Sun Joe MJ401E-PRO is the best light-duty lawn mower we've ever reviewed with its ultra-compact size and super lightweight. Yet, it has this meagre size and weight without scrimping on cutting ease or quality, with a 14-inch steel cutting blade, driven by a 13 amp electric engine.
Firstly, the Sun Joe MJ401E-PRO has a 13 amp engine. Now that might not seem like much, but for its compact size and 14-inch blade, it packs a real punch. Secondly, being a corded electric, the Sun Joe MJ401E-PRO has an unlimited run time (provided that there is a power source), as well as giving off no fuel emissions and being super quiet when compared to gas-powered mowers. Thirdly, the Sun Joe MJ401E-PRO at 29 lbs is ultra-lightweight, and at 48.4 x 40.6 x 40.6 inches is quite compact.
We're amazed at how light it is, and it's this combination of power, size and lightness that gives this mower its character of being an excellent light duty mower. The Sun Joe MJ401E-PRO has two discharge options – side discharge and bagging. The bag included is a whopping 10. 6-gal bag.
We love it and rate it 4 out of 5 all things considered. But, to be fair to it, as a light-duty mower, it's a 5 out of 5. Read full review.
Read on to find everything you need to consider before choosing to purchase an electric or battery operated lawn mower.
Electric Mower Overview
Electric Mowers are eco-friendly and can be easier to use than heavier gas powered mowers. This type of mower comes with a host of safety options, deck sizes and blade height options. They are also relatively inexpensive and can be a better option for a budget-minded consumer. An electric mower can be just the upgrade you need to make your lawn work less time consuming and easier on your body.
The growing popularity of electric mowers has captured the interest of many lawn care companies. In fact, many popular brands now have their lines of electric mowers to take advantage of this profitable market. Some popular electric mower brands are:
These brands all have a wide range of options that can fit into your budget. From electric mowers with every feature imaginable to a simple cost effective mower that doesn't include any extra features there is an electric mower for you.
Before choosing a brand or model though, you will need to take a good look at your yard. Determine what type of grass you are working with and just how much land you are going to need to mow. Can you get away with a corded model, or would you have to use a few extension cords to mow the whole yard? If you have kids, do you want to buy a mower that has additional safety features or are they old enough to be trusted around an electric mower? Depending on your answers to these questions, your mower needs may differ from other readers.
If you're planning to buy an electric mower to use for your business, then it may be best to look for a model that sits right in the middle. A moderately powered motor with a few extra features may be more suited to a business than a low powered or high powered model is.
Electric or Gas?
First off, what are the differences and advantages of choosing to purchase an electric one over a gas-powered mower? To decide if you genuinely want to pick an electric mower over a gas model, there are a few key differences you should consider. Both gas and electric motors have their pros and cons, and picking a model should boil down to your lifestyle. Here are the features you should consider before deciding to go with an electric or gas mower.
Cost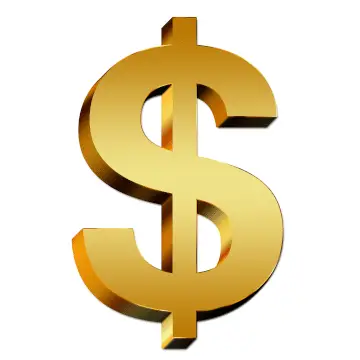 The cost of the models can vary depending on a few factors, but generally, a corded electric mower is cheaper than a gas mower. If you decide to go with a cordless mower instead then a gas model is usually the cheaper option. The cost can also vary by the features you want in your mower and the materials the model will be made out of; generally, gas-powered mowers are made out of costly materials like steel.
If you're factoring in the long term cost of gas and batteries, you may find that battery-powered electric mowers are a hassle to shop for. Many of these kinds of mowers require battery replacements since most models can only use specific batteries from their brand; the cost of a replacement can get quite high. Likewise, having to regularly pour gas into a gas-powered model can eat away at your wallet. Corded electric mowers require neither gas or a battery, making them cheaper in the long run.
Environmental & User Safety
If you are environmentally minded, it's likely that you are already a fan of electric-powered mowers over gas-powered mowers. Electric mowers don't let off hazardous gases into the environment as gas mowers do. It's important to remember that corded electric mowers are the most environmentally friendly option as they don't use a lithium battery. Keep in mind that every model will have some impact on the environment unless it is fueled using solar power.
Gas-powered mowers are also ranked more dangerous as they have more power, but fewer safety features. Safety features can be a vital purchasing point for those with young children or kids that tend to help with yard work.
Durability
Depending on what situations you plan to use your mower in, a gas-powered mower may be best. Gas-powered mowers are usually made of more durable materials, making them great for yards that are littered with twigs and sticks. Likewise, an electric mower is great for yards that are usually clean, or for people who like to pick up before beginning the mowing process. Gas-powered mowers can also tackle obstacles that may be hidden in the yard like large rocks better. In contrast, an electric mower will more easily sustain damage if not cared for properly.
Gas-powered mowers also have the potential to last longer, but constant maintenance will need to be performed. Between monitoring the blades, oil, and fuel filter, gas-powered maintenance can become a hassle. This type of mowers, in comparison, are easier to care for, even if you don't have experience working on machinery. Hiring a mechanic to work on a gas-powered model can also get costly.
Weather is another point to take into account when picking between models. Electric mowers, like any other electricity-powered appliances, can't be used in the rain. Some electric mowers will even experience problems in wet grass. Gas-powered mowers can run just about anywhere, but still, need to be used with caution as rain can still damage them over time. Remember that weather isn't generally a significant factor as most yard work is done when the weather is clear.
Noise Control
While noise may not be as important as a factor, electric mowers are much quieter than their gas cousins. If you live close to neighbours or are just irritated by the sound of loud machinery, then an electric mower could be your new best friend. It's also important to note that by buying an electric mower, you will do less damage to your ears in the long run.
Type of Electric Lawn Mowers
Now that you've decided to go with the best electric lawn mower, you will need to determine how you want your mower to be powered. Both models are incredibly effective at cutting grass and can come with a plethora of features. Depending on your budget, yard size, and needed run time, you may find a corded model better than the battery-powered model, or vice versa.
Corded Mowers
Corded models are simple to use, plug them into an outlet, and turn your mower on. As long as your house has power, your lawn mower will continue to run. Depending on the energy efficiency of the model, you could only see a small increase to your electric bill for using a corded mower. Corded models will also need less maintenance because there are fewer parts to replace. Low maintenance makes corded mowers the perfect choice for those new to lawn care or users who just aren't interested in fighting with a battery to get things going. Corded models are also the most eco-friendly choice, especially if you have a way to use solar energy for power. Most importantly, corded mowers can run the cheapest saving buyers hundreds of dollars, while being some of the lightest options available.
Sadly, you will need to keep in mind that the cord can't extend forever. If you have a large property, you may find it difficult to cut the grass with a corded mower. Most users don't want to use a line of extension cords to reach the edge of their property. Cords also have the potential to get tangled around trees and yard decorations, making mowing a frustrating process. If you have a heavily wooded yard, then you might find a corded mower more frustrating.
Pro's and Con's of Corded Mowers
Battery-Powered Mowers
If you want the freedom to mow away from an outlet, then a battery-powered mower will work best for you. Battery Powered models simply need to be charged and then can be used wherever you need them. Battery-powered models are still relatively lightweight, making them easier to push for long periods of time. These models also require little maintenance, making them perfect for all types of users. Battery-powered models are also easier to use around obstacles as they won't get wrapped around a tree hindering your yard care progress. These mowers are considered eco-friendly, but the lithium batteries must be disposed of in a safe manner.
There are some downsides to using a mower powered by a battery however. For starters, batteries will take an extended amount of time to charge and will have a limited amount of time they can be used for. Eventually, you will also need to replace the mower's battery, which can be costly. Many models are also strictly limited to only one type of battery, and it has to be bought from the same brand as your electric mower to work.
Pro's and Con's of Battery-Powered Mowers
Choosing a Deck Size
Choosing a mower with a proper deck size can be an essential time-saving step in the mowing process. A mowing deck is basically the width given to the swath of the mower. The swath is the amount of cut grass your mower leaves behind. Depending on the size of your yard, a larger deck may be a must, or if you have a small yard, then you may be able to cut the grass in a sensible amount of time with a small deck. Of course, picking a bigger deck will generally mean that you will be paying a higher price tag, whereas a smaller mower with a compact deck will typically cost you less.
A larger deck will also mean that won't as long to mow, the larger the deck, the more power will be required to operate the mower. While this won't matter with corded models, quick power consumption can become an annoyance if your mower is battery powered. A bigger deck also equals a heavier model. If you find yourself mowing for hours at a time or get tired out quickly, then a large deck could end up cutting up your mowing time into sessions.
If you have to maneuver around obstacles, then you may also find a larger deck to be a hassle. Smaller decks offer a higher amount of movement. Depending on the layout of your yard, a large deck can become a problem. Keep in mind that you will also need to have space to store your mower properly. A big deck means you will need to have more room in your shed/garage to place the mower.
The type of grass you have can also play a significant role in what size deck you should pick. A smaller deck may not be able to cut down more stubborn types of grass like Bermuda. If you have an average-sized yard with easy to cut grass, it may be best to look for a medium-sized deck.
Push or Propel?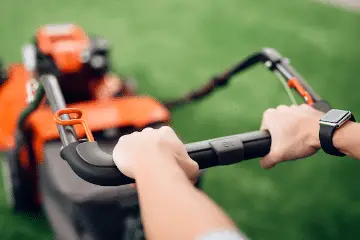 You will need to decide if you want to go with the classic push mower or have a model that propels itself. Out of these two options, the push mower is going to be cheaper. The downside is that push mowers will exclusively rely on your personal strength to mow your yard. On the other hand, propel mowers just need you to guide them, making them much better for an extended period of use. Just like with the mower's deck, you need to consider what type of yard you are dealing with. You should also keep in mind that a propel mower will use more energy than the push model, this can be taxing if you're using battery power.
If you have an average-sized yard with easy to cut grass, you may not see a need to spend the extra cash on a push mower. If you have hard to cut grass, and a few acres of land to care for, then using a propel mower is your best bet. Propel mowers will keep you from getting tired as fast and reduce the amount of strain you place on your body while mowing. They will also be able to cut through thick patches of grass much easier.
Finally, keep in mind that propel mowers have more parts, which means more maintenance. They have a higher chance of breaking down. You will need to do regular maintenance and be aware of the common issues that occur when using a propel mower.
Height Settings
Getting a mower without height settings would be like getting clippers that only cut one length of hair. Mowers need to have the option to adjust the blades in order to care for different yard types properly. Even when you mow on a weekly schedule, extra rain or lack thereof can cause the grass to grow to different heights. Even the species of grass you choose to plant in your yard may cause you to lower the blade for a shorter trim. The rule of thumb is to make sure the mower you are purchasing cuts your lawn no less than 30% of the grass's original height to avoid stunted growth.
Some mowers will also have different levers for each wheel. Different levers mean you will need to perfectly line every wheel up in order to have a neat lawn. Other mowers will have one single adjustment lever that moves everything at once. Depending on the designs of these levers, it may be harder to get them turned to the perfect spot. Some levers will be loose, while others are hard to move. If you're viewing a model in-store, make sure to toy with its height setting to learn just how difficult adjusting the wheels will be.
Some mowers will have more height options than others. In fact, a mower can have around eight different height settings, but most users prefer to buy a mower with four different height levels. These levels generally work best when the height difference ranges between 1.5 to 4 inches. Anything with a smaller range may be incompatible with your grass cutting needs. If you can't tell or test out how many settings a mower has make sure to look over the product description thoroughly.
It's important to note that keeping an electric lawn mower constantly on the lowest setting can actually damage the blade. If the lowest height setting for the model perfectly matches the needs of your yard, look for a mower with a wider range of heights.
Additional Electric Mower Features to Consider
Along with making sure that your electric mower will actually cut your yard correctly, there are a plethora of other features to think about. These features can range from extra safety precautions to the way your mower disposes of cut grass. Depending on your budget and individual needs, these features can vary in importance to most shoppers. Make sure to thoroughly read each mower's description or ask about specific features if you don't see them lister when looking at your desired model.
Grass Disposal
While the way your grass is disposed of may not top the list of features, it's still important to consider. Many mowers will just spew grass out of their sides while you are mowing, for many users, this leaves an unwanted mess. If you don't mind the look of a freshly cut lawn or don't mind raking up the cut grass, then you may not care much for how your new mower blows out the cut grass. If you find it a hassle to have to clean-up after mowing, then you may want to look into models that use a bag to collect the grass as you mow. Some mowers can also turn the grass into mulch so that you don't even need to bother with the disposal.
Generally, if a mower has a built-in bag to make clean-up easier, it will cost more. The bag is a great middle-ground though, as it isn't as expensive as a mulching model, but makes clean-up quick. You simply need to detach the bag after mowing and dump it in the trash or the nearest compost heap. You will need to take care to make sure your bag system doesn't get clogged up by the extra grass. Some bags will also have the option to shoot the grass out elsewhere, which can be great for controlling areas where weeds tend to grow.
If you want to go with a model that mulches the grass, then you will need to spend even less time during the clean-up process. Some mowers will even come with dual options or allow you to choose from all three. Keep in mind that with every extra you add on to your electric mower, the price will go up.
Starting Options
Another afterthought for many purchasing a mower may be how you start the model. You can easily go with the classic pull string models or even spring for an electric lawn mower that requires a key. Pull string models are generally the less expensive of the two, but many handles have to be held the whole time you are mowing. If your hand slips and you let go of the handle, most mowers have a safety feature that will cause them to shut off. Depending on how you look at it, the safety shut-off can either be a wanted feature or a nuisance. Buying a pull string mower also means that you can't have as much control over who is trying to use it.
Keyed mowers, on the other hand, can be easier to start and keep going as you mow. A key-operated model does mean you will need to be more careful as the mower won't stop if you trip or need to take a quick break. Adding in a key does give you another level of security as only you will be able to turn the mower on. A keyed mower can be a great choice if you have children or want to deter possible theft. Additionally, there are some push to start models out there that are even simpler to turn on and start mowing with.
Safety Features
Safety features are another great option to consider when you're picking out your electric lawnmower. As mentioned above, many pull string models have a built-in feature to turn off as soon as you release the handle. To build on top of this, many models can't have their blades adjusted while they are turned on. This is to help avoid unnecessary injuries and can be great to include in a mower; your child will be using for chores. Some models will even have rubber shields installed to protect your feet from debris.
If you have small children, look into models that have safety features put in place to keep the mower turned off. Several pull string models will have a spot for a small key that has to be inserted before you can pull the mowers cord. Safety features can cost more, but some companies build them in at little to no extra cost to the consumer.
Proper Electric Lawn Mower Care
To ensure your lawn mower will last, learn the proper care procedures for the model. If properly taken care of, mowers can last between eight to ten years. Proper Maintenance is the one way to ensure that your mower will stay running for years to come. Almost every manual will have instructions on how to care for your new mower. In most cases, you will need to make sure to wipe it down after each use. By removing the grass and dirt from the vents, blades, and housing, you keep your mower running smoothly and rust-free.
You will also want to check on the mowers innards before and after each mowing season. By making sure the belts and blades are in excellent working condition, you can avoid any unexpected snags during yard care. If your mower has a cord, make sure to wrap it up tightly after every use, most mowers will have a spot to place the cord while not in use.
Most importantly, make sure you are correctly storing the mower. Leaving a lawn mower exposed to the elements can not only cause rust but may short out your lawn mower. When not in use, your electric lawn mower should be stored in an area that is covered and free of water.
Consumer Tips for Purchasing an Electric Mower
As with anything you buy, you should use caution to make sure the electric mower you are looking at is trustworthy. Cautious shopping can be especially important if you're buying a model second-hand or from an online source. Make sure you thoroughly vet the descriptions, product specs, and if buying used, check the model number. If you can try the mower out or at least play with the levers to see how easy they are to move.
Check Reviews Of Best Electric Lawn Mowers

Always check reviews from top lawn care sites to see professional feedback on each model. It can also be wise to check on input from other users using online outlets that sell the model. Reading reviews will give you a better window into the issues the model might potentially have. Review checking is even more effective if you're buying an older model that has had some time on the market.
Check The Warranty
No matter what the product is, a warranty should come with it. Warranties are especially important when purchasing a large ticket item like an best electric lawn mower. Many companies will cover you with a limited warranty of up to 5 years.
These warranties should cover any malfunctions that are not caused by the misuse of the product. Warranties are a companies way of guaranteeing that the product will work for an extended amount of time without breaking down on your or having an issue that majorly impacts its performance.
Buying Outside of a Store
If you're not going to the store to buy your mower, then you need to be more cautious. Both buying online and second hand comes with risks. For starters, you can't see the model before you buy it online. While you could find a store with the same model, sometimes this just isn't possible.
Make sure to go over the product descriptions and specs thoroughly. If you have questions, then get in touch with customer service to clarify any features you may be confused about. It's also a great idea to cross-reference the model across several different sites to gather the most accurate picture of the mower you're buying.
If you've chosen to buy a second-hand electric lawn mower, then go into the deal with caution. Ask the seller to give you a demo to prove that the mower is in proper working order. You will also want to check the model number and possibly try it out or inspect the levers yourself. Examining the model will keep you from ending up with a malfunctioning or non-working mower.
Is The Company Reputable?
Companies are always rolling out new products for the consumer market. You should check to see how long the company has been in the electric mower game and what the general consumer census is on their products. Do they honour their warranties, do the mowers have durability issues, and how long does the battery for that model last? By vetting the company and the model, you are building up a realistic expectation for the electric lawn mower you are buying.