Comprehensive Lawn Mower Buying Guide.
We are an Amazon Affiliate
Our site is supported by you, our readers! This page contains affiliate links, which means we may earn a small commission if you click through and make a purchase - you will not pay any extra. More details
here
.
Best Overall Rated Lawn Mowers
Short description of Best Lawn Mowers
Craftsman M115 Lawn Mower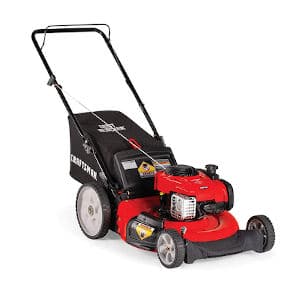 Some lawn mowers really have it all, and the Craftsman M115 Push Lawn Mower, Red is one of those elite mowers. Perfect for small and flat lawns. It offers 140cc with a huge 21-inch deck for a push mower.
The redesigned engine is outstanding- less likely to overheat, and keeps debris out, prolonging the health of your mower's oil. It's lightweight at 73 lbs. and petite at the travel bag size of only 36.56 x 23.88 x 17.5 inches. With its 3-in-1. Side discharge, bagger and mulching options as standard- because there's no excuse not to include them in this day and age, we have the technology!
It's simple but it makes all the difference. You choose what's best for you. It's our recommendation if you're looking for a gasoline-powered mower, or if you're simply looking for a rotary mower. High praise! Our favoured choice in 2 categories! We give this mower 4 out of 5.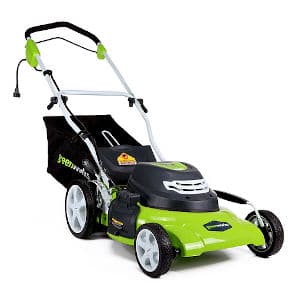 Are you looking to do your bit for the carbon footprint but still want a perfect luscious lawn? Well, we've got the lawnmower for you! The GreenWorks 20-Inch 12 Amp Corded Electric Lawn Mower is a clean energy, quiet, electric mower. This mower is corded so as long as you have a plug socket and a cable, this mower will keep mowing until the world ends. The blade is superbly durable. The mower is also easy to store, being only 26.88 by 16.13 by 18 inches and with foldable handles.
This is a mower that's been on a diet. But, don't think it's weak! For its size, the 12 Amp engine packs quite the punch. This mower is like a Swiss army knife. It has a wide range of 7 different grass height cutting options and 3 different grass discharging methods! It allows you to be an artist with your lawn whilst offering you flexible ways of disposing of your clippings.
Clean, powerful, and compact – definitely one of the best-rated lawnmowers! Lightweight, 3 different grass discharging methods included and 7 easy to change grass height options! It really has it all. As a lawnmower, we give it a superb 4.5/5. Read full review.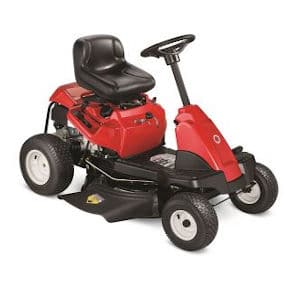 Sometimes you need good old fashioned lawn mower riding comfort. The Troy-Bilt 382cc 30-Inch Premium Neighborhood Riding Lawn Mower is ideal for medium to large lawns with roughly flat yards. It's powerful with a 382cc Auto Choke OHV engine, with a top speed of 4.25 MPH. It has a 30 inch, sturdy deck with variable 5 cutting height settings. It's easy to maintain for a petrol mower with a fuel gauge window and a hose washing attachment for easy cleaning.
It provides luxury with its mid-back seat, soft steering wheel and cup-holder, without scrimping on mowing quality. And it does all of this whilst being compact and light. Sizing up at a tiny 62 x 34 x 26 inches and weighing in at 336 lbs- this mower is the size of a large suitcase and weighs not too much more than a packed one. It'll fit comfortably in any shed or conservatory. The Troy-Bilt 382cc 30-Inch Riding Lawn Mower is our favoured all-purpose riding mower. Overall, we give it a great 4 out of 5. Read full review.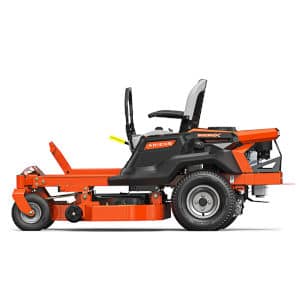 Say goodbye to turning circles and hello to straight lines with the Ariens 915223 IKON-X 52″ Zero Turn Mower 23hp Kawasaki FR691 Series. This beauty is not only a ride-on mower, it's a no turn ride-on mower- meaning you can mow forwards and backwards. This mower really makes life easier. It's super comfortable and moves with the agility of a ballet dancer. With 3 rotary blades that mulch grass to perfection. A comfy seat and incredibly well-constructed body and deck. The IKON-X has an incredible 726cc twin-engine and 23 horsepower. It's so powerful you'd think if it had wings it would take off. It'll charge up any hill you want.
The body is welded and choked so grass clippings don't get into vital parts of the engine. It is relatively large and heavy at 871 lbs. But, it's so tough, so powerful and makes trimming the lawn so easy- forwards and backwards trimming
If you have the space for this dynamic mower and a medium to a large lawn, we recommend you buy it! Our rating for the Ariens IKON-X 52″ Zero Turn Mower 23hp Kawasaki FR691 Series is a phenomenal 4.5 out of 5! Read full review.
Reel vs. Rotary

All lawn mowers employ a blade(s) that turns and cuts as it moves along. Practically all lawn mowers are adjustable so that you can cut the grass to the height that you desire. Your two types of lawnmower blades and structures are rotary and reel lawnmowers.
Rotary mowers are composed of a single horizontal blade that rotates, like a helicopter blade, at the bottom of the mower, and cuts parallel to the lawn. They offer consistent cuts and are easier to clean and sharpen – being composed of a single blade. So, they require minimal maintenance. However, they are typically larger than Reel lawn mowers and most Rotary mowers are self-propelled, so if you're looking for a manual mower you're more likely to find a manual Reel mower to your preference. Rotary mowers are generally poorer at dealing with uneven or bumpy lawns than Reel mowers.
Reel mowers consist of a cutting bar or barrel or cylinder with multiple blades attached (with the more blades attached the greater height consistency of the cut grass) which turn around an axis that is parallel to the grass. Thus, a Reel mower spins like a tumbler, or a kitchen rolling pin. Some Reel mowers are designed especially to cut unevenly to create patterns or waves within the lawn. However, for most lawns, the difference in cutting between Rotary and Reel Lawn Mowers will be minor and only noticeable to the most discerning of eyes.
Best Lawn Mowers Under $300
Self Propelled Lawn Mowers
Self-propelled lawn mowers will typically feature a "Dead Man's Switch", which is a safety trigger that when released will turn off the lawnmower. This is to prevent accidents when using the mower or when cleaning it.
When it comes to self-propelled mowers, you'll find mowers with different engine sizes. Whilst more powerful engines will be better technically better at cutting your lawn, the difference, when compared to smaller engines, is minimal. And usually not worth the extra cost (for the larger, a more powerful engine will be quite a bit pricier).
Propulsion
There are typically 3 forms of propulsion for lawn mowers – manual, fuel and electric. A manual mower will require the user to direct and push the mower forward, the act of which will turn the mower's blade(s), cutting the grass. Manually propelled lawn mowers are ideal for smaller, flat lawns. They are environmentally friendly, quieter, cheaper, easier to maintain and smaller, so take up less of your precious space. However, they do require more effort from the user and may not provide as even cut as electric or petrol mower, especially if there are dips or mounds in the lawn.
An electric lawnmower will be either plug-in or battery powered. Here, the lawnmower will have a motor that's powered by a current. The plug-in mower will not require charging or petrol but as a downside, you are limited by the reach of the cord, and there are only so many extensions you'll practically use. Thus, plug-ins are limited to smaller lawns, within reach of a socket. Battery-powered electric lawn mowers require charging thus are limited to typically between 15-40 minutes of mowing. Electric mowers are cheaper, cleaner, quieter and more efficient, and unlike petrol mowers, they do not need a particular mixture of fuel and oil. Ideal for small and medium lawns.
Petrol Powered Lawn Mowers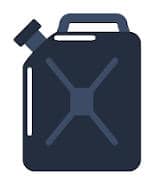 Petrol powered lawn mowers are louder and more expensive and trickier to maintain. They also require you to have the right mixture of oil and fuel. Their benefit is that when they're topped up, they'll last longer than electric mowers. So, if you've got a large lawn that takes longer than 30 mins to the lawn you might consider a petrol mower. However as the battery capacity is improving with the years, it is likely that in the near future all petrol-powered mowers will be inferior on all counts to electric or manual lawnmowers.
Self-propelled lawn mowers drive. All-wheel, front-wheel and rear-wheel. All-wheel drive offers easy crossing of uneven lawns, however, may have a wide turning circle. Front-wheel propulsion makes it easier for the lawnmower to be turned and guided, however, the front-wheel-drive mower will struggle with cutting on steep inclines. Rear-wheel drive lawn mowers are ideal for lawns with steep inclines, offering more consistent cuts, but don't offer the same ease of guidance as front-wheel drive mowers.
Deck of the motor – steel, the key benefit of which is durability. It offers a sturdy structure for your mower and good protection. However, it will rust over time and will be heavier than other desks. Plastic desks are lightweight and cheaper, although they are the least durable of the three standard types of deck. Composite decks are lightweight, very durable and sturdy, and will not rust, thus they offer longevity and ease of use. That said, they are the most expensive of the three types (though the additional cost may be mitigated by the longevity of the mower, meaning you won't need to buy another in the near future).
Reel mower blades usually take longer to clean, simply because there are more of them. In aid of cleaning, some mowers have a built-in washboard that pressure washes the blade(s) of the reel or rotary mower with water. You should also lubricate the wheels of your mower with oils like 'WD40' (though other oils are available). Again this maintains effectiveness and ease of use. Additionally, always make sure all the nuts are tight on your mower.
It used to be said of electric mowers that you should drain the battery fully semi-regularly. However, with most modern batteries this is unnecessary. With electric mowers, all you need really make sure is that the batteries are fully charged when using it- simply for your own moving convenience. With a plug-in cord, electric mowers simply make sure that the chord reaches the farthest points of your lawn before turning the mower off. Simply make sure you can actually mow your lawn and avoid damaging the cord or plug.
Petrol based mowers must be lubricated with lubricating oil. Additionally, the carburettor must be topped up with a mixture of fuel and oil for use. The exact mixture will depend on the mower. It's also recommended that when the hotter weather has passed and you won't be doing any mowing anytime soon, to fully drain the petrol tank. Over time, impurities in the fuel and oil can thicken and the resulting sludge will affect the functioning and lifetime of your reel mower or rotary mower.
Riding Mowers
For considerably larger lawns you might prefer a riding lawnmower. As the name implies, these differ in that the user will ride on the lawnmower as it's mowing. These typically resemble small tractors where the user sits down and steers the mower. But other models do exist where the user simply stands on a ledge and guides the mower. All Ride-on mowers are self-propelled with the majority being petrol-powered, with most also being rotary lawnmowers. These are best employed for very large lawns that will take several hours to cut.
There are however considerable drawbacks to Ride-on lawnmowers. They're larger and heavier, so are more likely to disrupt and impact the soil, and leave marks on your lawn. If they are petrol-powered they'll be noisier and environmentally unfriendly. They'll also be more expensive to purchase, to use (because of the additional petrol) and to maintain. Due to their size, they're more cumbersome- expect large turning circles, and they take up more storage space. We only recommend ride-on mowers for very large lawns and for those who are prepared to spend more on their mower and have a garage to store the ride-on lawnmower.
What is Robot Lawn Mower?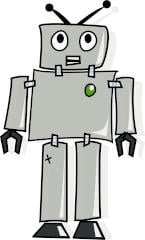 In 2022, you might wonder if we can do better than needing a user to actively guide a lawnmower. You'd be right to wonder, for you can get a robot lawnmower, or "robomower". The principal benefit of this beast is that once programmed, it doesn't require you to do anything. You can sit back and relax whilst your lawn mows itself. Life is short enough, why spend your precious time mowing your lawn? Most are easy to programme either with a particular radius and A.I. to cut the grass and not go beyond your lawn or cut down your precious flowers.
Some even have anti-theft technology, so you needn't worry about someone interfering with the cutting of your lawn or with your mower.
The drawbacks are that they can still make mistakes and are limited to small to medium lawns. However, many robot lawn mowers, today, have excellent A.I's which can detect obstacles, different surfaces and adjust themselves according to differing grass lengths like Worx WR150 Robotic Lawn Mower with both a rain sensor and safety shut-off.
They do offer less control and if you're looking for particular cuts and lawn stripes, then you may be better off with a push lawnmower, which will provide the control you require. But, they do offer a variety of programmable options, to tailor the cutting of your lawn. So, don't be automatically put off- even if you are a perfectionist about your lawn.
Taking care of your Mower
How you maintain your mower will depend on the kind of mower it is, however, some maintenance activity that applies to all kinds of mowers are blade cleaning and structural cleaning. Clear the blade(s) and base of the mower of any debris and grass residue after using it. As the grass decomposes, it can rust the blade(s) and metal components of the mowers. It can also gunk up pivot points. Cleaning your reel or rotary mower will prolong its life and effectiveness.
How to deal with grass clippings?
As you mow your lawn you have a waste product – THE CUT GRASS! When it comes to dealing with grass clippings there are three main forms- Bagging, mulching and side discharging.
Lawnmowers that bag grass will deposit the cut grass into a bag, box, compartment or tray. The benefits of this are that your lawn is clear immediately post cutting and all of the clippings are collected in one easily movable "bag". However, it does require extra effort from the user in emptying the "bag" and then disposing of the cuttings. Obviously larger "bags" will require fewer empties.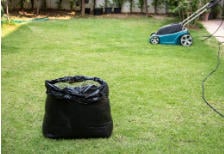 Mulching mowers cut the grass very finely and fire the cuttings back onto the lawn. The grass cuttings are intended to be so small and deposited so evenly onto the lawn that the cuttings are disguised amongst the rest healthy grass. The pros of this are that it doesn't require you to dispose of the cuttings (unlike with bagging or side-discharging) and permits the grass to decompose on the lawn returning nutrients to the live grass. A con is that if you intend to use your lawn immediately after cutting expect clippings and dampness to get onto shoes and clothes.
Finally, discharging mowers, as the name suggests, discharge the cuttings in a line to the side of the mower. There are a few benefits to this type of mower. Unlike bagging mowers they don't get full up and require emptying. However, they do require the user to collect the (neatly deposited) clippings. The clean-up here is trickier than the other two varieties of clipping collection in mowers, all things considered.
If you're looking for a universal recommendation, we suggest the GreenWorks 25012 Lawnmower with an 18-Inch cutting deck. This fantastic lawnmower is small, lightweight (weighing 46 lbs) and equipped with an engine strong enough to tackle even the worst overgrown, un-kept and chaotic lawns. It is easy to assemble and inexpensive both to purchase, use and maintain. It handles small to medium and flat or bumpy lawns with ease and offers consistent cuts throughout. The grass box (bag) of the mower doesn't miss clippings and has good size, meaning fewer trips back and forth emptying it. The cutting length is adjustable by an easy-to-use spring-loaded wheel axle. One thing is certain, being the best electric mower it's quiet, cheap and efficient. The hardened steel blade offers long life and easy and accessible cleaning. A great all-around mower.
How to keep your lawn healthy?

A lawnmower is a brutish bit of kit, it's important to keep a few rules of thumb in mind to keep your lawn looking green and luscious. Though lawn mower blades are adjustable, there is a rule of thumb that you should only cut a third of your grass's length at any time. One of the benefits of mulching your grass, as said earlier, are that essential nutrients get returned back into the ground and preserve healthy grass. Some have also recommended puncturing the earth of your lawn inconsistent intervals so that water and mulch may better penetrate the soil, to feed and hydrate your grass.
Also, make sure to water your lawn, especially if you live somewhere with little rain. Aim for watering your lawn irregularly, but when you do, thoroughly. This encourages the grass to form deep roots, which will offer healthier and more robust grass.
When it comes to barren or yellow patches of grass there are grass-fed products that provide essential nutrients and promote healthy grass growth. Alternatively, just keep the area well-watered, for such patches are typically down to either a lack of water, or a build-up of acid (which the water will dilute, or if the water is alkaline, neutralise).
With these simple tips, you'll keep your lawn looking phenomenal.