Best Riding Lawn Mowers. Buying Guide and Reviews.
If you have a larger budget and are looking to save time while mowing your lawn, then a riding lawn mower may be just the solution you are looking for. These mowers are generally gas powered, meaning that as long as you can refill your tank, you can continue to mow your lawn. Riding mowers can make maintaining large yards easier than ever. We developed this guide below to help answer all the various questions you may have about owning and buying a riding mower.
Top-Rated Riding Lawn Mowers. Editor's Choice.
We are an Amazon Affiliate
Our site is supported by you, our readers! This page contains affiliate links, which means we may earn a small commission if you click through and make a purchase - you will not pay any extra. More details
here
.
Short description of best riding mowers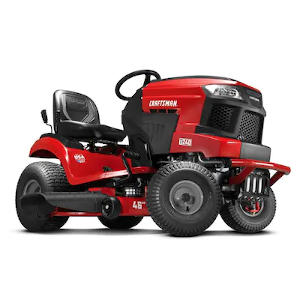 The Craftsman T240 Riding Lawn Mower is another great choice for medium to large lawns with obstacles. This mower has a turning radius of 18-inches to help you easily maneuver around trees. The Craftsman T240 Riding Lawn also has a powerful 19 horsepower Briggs and Stratton engine to help the mower power through tough yards. The T240 can reach a max speed of three miles per hour going forward and in reverse. If you often find yourself having to backtrack, then this may be the perfect model for you. Along with its great speed, this model has a fuel capacity of 3 gallons.
This is one of the heavier models on this list weighing in at around 590 pounds. This extra weight is great for mowing tough lawns but maybe too much for more sensitive grass. The Craftsman T240 Riding Lawn is also designed with comfort in mind. The mower features a high back seat that is cushioned to make mowing more comfortable. The seat, like most, can be adjusted to fit your height perfectly. The frame of the T240 is made out of durable steel, and the mower comes with an easy to wash deck system. Simply hook your hose up, and the water will be routed to your deck for cleaning. Read full review.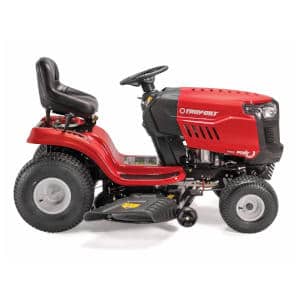 The Troy-Bilt Pony 42X Riding Lawn Mower is made to be powerful, but give users the option to cut their lawns with ease. This model uses a 17.5 HP* Single Briggs & Stratton engine with a 7-speed transmission. On top of that, the mower has a turning radius of 18 inches, making it perfect for mowing around trees or lawn decorations. The body is made out of durable 14-gauge steel that will allow your mower to last for years to come. The 42X weighs in at a hefty 490 pounds and measures 70.5 inches by 48 inches by 35.5 inches. Making it pretty hard to move on your own.
As for comfort, the model features a low back adjustable seat that just about anybody can easily fit into. The design of the mower is also open so that you don't have to maneuver around the body to get situated. The biggest drawback of this model is its small fuel capacity. The 42X can only hold 1.36 gallons of gas at a time. If you are planning to mow a larger yard, then you may find yourself having to fill up a few times. Keep in mind that this model does have a 2-year warranty that protects you from any defects! Read full review.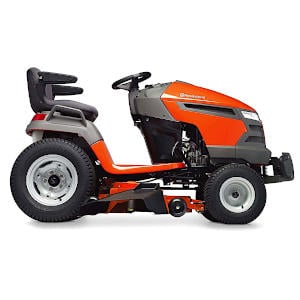 The Husqvarna YTH18542 riding lawn mower is a powerful riding lawn mower with a larger fuel capacity. This mower uses a Briggs and Straton Intek engine along with a Tuff Torg Hydrostatic transmission. The lawnmower can go 2.5 miles per hour. The model has a 42-inch cutting deck perfect for medium to large yards. Be aware, though, that the Husqvarna YTH18542 riding lawnmower isn't designed to move around tons of objects. If you are looking for a mower that can deal with a yard full of trees, then this model may not be for you. The Husqvarna YTH18542 riding lawn mower is also quite hefty, weighing in at 490 pounds.
The model has a medium height adjustable set with a strong frame. Everything from the cutting deck to the mower's axels is made out of durable steel. The mower can hold around 2.5 gallons of gas at a time, making it perfect for longer mowing sessions. You won't have to worry about constantly having to refuel your tank. If you do have any issues with this model, then you can use the generous 3-year warranty to get a replacement. Read full review.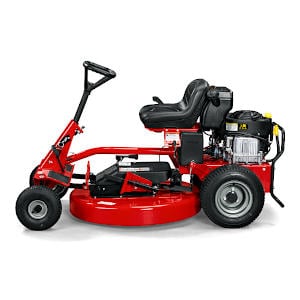 The Snapper Classic REAR Riding Lawn Mower is a simple lawnmower and the smallest unit on this list. If your looking to only care for a small or medium-sized yard, then this unit is a safe bet. It uses an 11 hp Briggs and Stratton engine along with a unique precise cutting system. This allows for the model to give you a near-perfect cut every time you use it. The fuel capacity of this mower is only 1.35 gallons. This, coupled with the tiny deck size of 28 inches, would make cutting large lawns a time-consuming process. The mower is smaller, letting it fit into smaller areas, but it has a huge turning radius of 28-inches.
The bright side is that this mower is easy to store. The Snapper 2911525BVE Classic RER Riding Lawn Mower is specially designed so that you can actually choose to sit the mower upright. For people who have limited space, this model is a dream. The mower is also the lightest on the list weighing in at just 377 pounds. While the Snapper won't be easy to push around, it is a simple design that those looking for a basic riding mower will love. Read full review.
Riding Lawn Mower Overview
Riding lawn mowers have been around since 1922 and are still undergoing improvements. The purpose of the riding mower was to cut down on the time spent caring for one's yard and to conserve personal energy. The first riding lawn mowers did cost quite a bit of money, but as history went on, more and more companies decided to invest in the models, and prices started to go down. While they are still expensive, many homes across the world have opted to use riding lawnmowers.
A riding lawn mower can help you drastically cut down on the time you spend mowing. Not only that, but you won't even have to use much energy. Depending on your price range, you could even get a riding lawn mower that has added comfort features like high-back chairs and cup holders. Riding lawn mowers will also provide you with a variety of ways to dispose of grass clippings. If your looking for a reliable mower that will likely last you for years to come, then a riding lawn mower may be for you.
Cost
Riding lawn mowers are one of the most expensive options you can go with. Some models can easily cost as much as a used car. If you have a larger budget and have limited time, then the price may be worth it. It's very unlikely you will find a riding model for under $1,000. You should expect to pay between $1,500 for a cheaper model with fewer features to $5,000 for one of the more premium riding lawn mower units. You may be able to find riding lawn mowers for cheaper if you get a used model, but you still are looking at paying around $1,000 even for an older model.
Environmental & User Safety
Keep in mind that riding lawn mowers use gas, and gas isn't environmentally friendly. If you're eco-conscious, then going with a push mower that uses electricity may be your best bet. On the other hand, riding lawn mowers can have a ton of safety features built in to help protect you and your family while the unit is in use. Many new models come with safety features designed to keep children from being able to turn your mower on accidentally.
Durability
If you are investing thousands of dollars into your lawnmower, then you're going to expect to get your money's worth out of the product. We always recommend going with acclaimed brands that thoroughly detail what their units are made out of. This way, you can easily decide for yourself just how likely the riding lawn mower is to fall apart from normal use. Not only do you need to worry about the body and blades of the lawnmower, but you will also need to look into riding lawn mowers that have good engines that won't give up on you after a few years of use. Remember that no matter how tough your lawnmower is, you will need to practice proper care.
When searching for your new lawnmower, take a close look at what the frame is made out of. You will want to find models that use reinforced steel or other strong types of metal. As a bonus, see if you can find a lawnmower that has steel around the blade. By having a protective barrier, you can ensure that your blades won't be worn down by rocks or other debris. Check the wheels and the axels as well. It won't do you any good to have a solid body, but bad wheels which come apart on you.
Next, check for additional features like bumpers that will help protect you from small crashes. Models with both a back and front bumper can give you double the protection. You may even be able to find lawnmowers that have a special coating that is anti-corrosion. For extra security, be sure to check in with the model's warranty. If a company places a warranty on their products, that means they have faith in it. If there is no warranty on the lawnmower you are looking at, then it may be best to pass it up. Moss lawn mowers will even have lifetime warranties on the frame.
Noise Control
While there are some models of riding lawn mowers that aren't as noisy, this is a loud product. Riding lawn mowers are often so loud that your neighbors will know when you are mowing. If you're looking for something quiet, then you should go with a rotary or push model. You should also consider getting noise-cancelling headphones for when you are mowing. The noise of a riding mower can be quite unpleasant if you're doing yard work for long periods of time. At the very least, pick up a set of earplugs, loud mowing can potentially damage your ears in the long run/
Choosing a Deck Size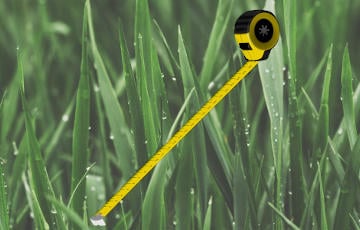 Deck size is one of the most important parts of picking out a lawnmower. The bigger the deck you have, the bigger your cutting swath will be. To simply break it down, this is how much grass you are riding lawn mower will be able to cut at once. Having a big deck, however, doesn't necessarily mean the lawnmower will be the right size for your yard. A larger deck means it will be harder to turn when you are mowing. If you have a yard full of obstacles, then you may find a large deck is hard to deal with. You should also keep in mind that the larger the deck, the more money you are going to pay for the mower.
If you are not sure about what deck size will work best for your yard, then check with a sales representative. Chances are you are not going to need a huge deck size if you have a standard size lawn. If you have several acres to mow or have a mowing business, then getting a bigger deck is probably a must. Just make sure that whatever deck size you get can easily accommodate any trees or shrubs in the lawns you are mowing.
When To Buy a Small Deck
On the other hand, you may find that a small deck is perfect for you. Smaller decks will allow you to move room to maneuver and are perfect for yards filled with ornaments or trees. The bigger the deck, the heavier your mower will be. This means that if you run out of gas, it will be hard to move the unit. Likewise, a bigger deck will take far more room to store than a small one. If you don't have a lot of room for storage, then you may want to take some measurements before going shopping.
Maintenance
Maintaining a riding mower is going to take a bit more work than other models. This is because a riding mower has plenty of parts you will need to care for. Depending on your mower, you will likely need to do a tune-up at the beginning of each mowing season. You will also need to regularly check the spark plugs, battery, and possibly even the mower. If you haven't used the mower in a while, you will need to check the oil and gas levels before use. At some point, you will probably also find yourself having to buy a replacement battery. While this won't happen, often having to replace parts like that battery can be costly over time.
If you aren't very tech-savvy, then you may have to look into lawn mower repair shops. These shops can do tune-ups and replace batteries in your mower for a small fee.
Height Settings
Another essential feature to consider when shopping for any mower is the height settings. Most lawn mowers will naturally have a height range between 1.5 inches to 4.5 inches. Experts do caution that even if your mower can cut lower than 1.5 inches, you should avoid it. Cutting your grass any lower can damage it, causing its growth to be stunted. When you go to buy a riding lawn mower, check to see what height settings are available. Some mowers will have four height settings, while others will have twelve. If you are buying online, make sure to check the product description or message the seller for more information.
If you are able to look at your model in person, check to see how hard it is to adjust the height. Some mowers will use levers that are easy to move, while others use hard to turn knobs. You should also check your yard every time you mow to determine how much or how little your grass has grown. Extra rain or a dry period can cause your grass to grow at different speeds. By understanding height settings, you can always make sure that your lawn gets the perfect cut.
Additional Riding Lawn Mower Features to Consider
Since there are so many riding lawn mowers on the market, they have to find ways to compete. Thanks to this, there are a plethora of features available for you to choose from. Some of these features come built into the model, while others will cost a premium price. There are also aftermarket add-ons that you can choose to buy with your mower.
Along with the more useful features, you can also look into ways to make your mowing experience more comfortable. Many mowers will come with options to add on a cup holder or even seats with higher backs. You also may be able to purchase options with more comfortable seating. Keep in mind that luxury options will often increase the price of the riding lawnmower.
Grass Disposal
Grass disposal may or may not be a deal-breaker for you. If you don't mind raking, then your probably not going to be concerned with how your riding mower deals with clippings. If you're crunched for time, however, you may be interested in models that make grass clean-up easier. To begin with, there are three different types of grass disposal that most mowers have. The first just shoots the grass clippings out the side as you mow. Many lawn owners will feel the need to rake these clipping into a pile to make their lawn look neater. This is the most basic method, and won't raise the price of the mower.
Premium Grass Disposal
If you're interested in saving time and making your yard look nice, then go for a premium method. The first of these methods catch the grass clippings in a bag. Once you are done mowing, you can simply detach the back to dump the clippings into the trash quickly. The third method actually has the mower mulch the grass for you. This is an excellent way to great fertilizer for your lawn without having huge clumps of grass decorating your lawn.
Some mowers are even made to have multiple methods or all three. Generally, models that have more than one grass disposal method will cost you more. If you are not happy with your mower, many companies offer aftermarket bags for their models.
Starting Options
There is a variety of starting options you can choose from for riding lawnmowers. The most common is a key ignition that can be very helpful if you have kids. The lawnmower will usually come with a set of keys; without them, the mower won't start. This can keep curious kids from using the mower and makes it harder for thieves to still. If you don't like the idea of having to turn a key, then you can look into a push to start models. These models simply require you to push a button to get going. If you have kids, then you may still have to look into additional security features to keep them safe.
Safety Features
Safety features are especially important if you have a family containing young children. Many models can be bought with a plastic key that you have to insert before being able to start the mower. This adds an extra level of protection that keeps curious hands from going on a surprise ride. Additionally, some mowers will come with bumpers that help absorb the impact if you wreck. Not only do bumpers help protect the mower, but they can also help protect you.
Movement
The maneuverability of the mower can be important, depending on what type of yard size you have. As mentioned in the deck size section, some mowers just aren't made for yards littered with decorations and trees. Each model will have a different ability to turn. There are even such things as zero turn mowers that can change course on the fly. While you may not need to change the course that quickly. Picking a model that cuts down your backtracking is important. Always ask what the turning capacity of a model is before you buy it.
Proper Riding Lawn Mower Care
If you are purchasing a riding lawn mower, then your going to spend a good bit of money. Along with proper maintenance, you are going to need good care practices to make sure your riding lawn mower stays in good shape. To begin with, you need to clean off your mower every time you use it. Many riding lawn mowers will have a helpful wash system that you plug your hose into to wash off the blades. Washing the blades helps to ensure you're not leaving any debris that will help to wear your blades down faster. You should also take care to clean off the frame after each mowing session.
Next, you should have a place to store your mower once you are done using it. Riding mowers typically take a lot of space and should be stored in a covered shed or in a garage. Even mowers with anti-corrosive coating shouldn't be left out in the rain. If you choose not to cover your mower, you will likely void the warranty and find yourself buying a new model within a few years because of the rust. Be careful not to mow in the rain or in bad weather to keep from damaging your mower's frame.
Consumer Tips for Purchasing a Riding Lawn Mower
If you've decided that you need a riding lawn mower in your life, then there are some tips you should follow before purchasing. In the age of the internet, there are a lot of products that aren't what they seem. From shady sellers to badly made mowers, here are the things you should look for when shopping for your new riding lawnmower.
Check Reviews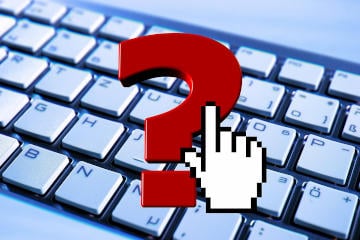 Before you buy anything, you should check the reviews. This is especially vital if you have decided to buy your riding lawn mower online. Other reviewers can let you in on all the quirks the product may have. This will not only give you insight into its durability, but it can let you know what type of yards the model will work best with. If you notice that a model has all five-star reviews or a ton of negative reviews, then you should avoid buying the riding lawnmower. Negative reviews mean the unit has a problem, and only positive reviews can mean you are seeing false feedback. False feedback is especially prominent on off-brand mowers or mowers that have only recently appeared on the marketplace.
Check The Warranty
As mentioned above, if a company believes in its product, then it won't mind including a warranty. If the model you are looking at has no warranty or a very short one, then shop with caution. Most riding mowers are built to last quite a few years without problems popping up. If you notice that the warranty is there, but incredibly limited, then you have found another sign of bad design. Most mowers will come with year-long warranties that cover any faults and lifetime warranties that guarantee the quality of the frame.
Buying a Used Riding Lawn Mower
Buying anything used is a bit of a gamble, but riding lawn mowers can be even worse. Most used lawn mowers will still go for around $1,000 an amount of money many people will want to spend wisely. If you've found a good deal, then request to see the product before committing to the purchase. Once you arrive at the seller's house, check the lawnmower to see if everything is in working order and check for smaller issues like rust. Ask the owner to turn on the model to verify that it can still mow. If you notice any funny sounds coming from the engine or it seems to be in bad condition, avoid the sale. You should also check to see if they have any of the warranty papers left.
Is The Company Reputable?
Do your research on the company that makes the mower to verify that they are reputable. With the rise of internet shopping, there are tons of knock mowers, parts, and even fake sellers. Whenever you're looking at buying a lawnmower, search the company to see if they are legit. If you can't find results, then you should avoid buying that model. Many companies that now make riding mowers have been in the lawn care business for years. Even newer companies should have a website with detailed information on their riding lawn mowers.