We are an Amazon Affiliate
Our site is supported by you, our readers! This page contains affiliate links, which means we may earn a small commission if you click through and make a purchase - you will not pay any extra. More details
here
.
Craftsman T240 Riding Lawn Mower Review
Here at Green Grass Mower, we want to help you find the perfect tools for taking care of your lawn. Today we are going to be taking a look at the Craftsman T240 Riding Lawn Mower. Craftsman is a trusted brand in hardware that brings its best to building lawn mowers that can handle bigger yards. This mower is even equipped with a small cutting radius so that you can easily mow around your yards bushes and trees.
Deck Size
Deck size determines how long it will take you to mow your yard and how easily you can maneuver around obstacles. The Craftsman T240 Riding Lawn Mower has a perfect deck size for tackling medium to large yards. This model has a deck width of 46-inches along with a maximum cutting height of 3.75 inches. The mower allows you to choose between 12 different heights. Make sure to size up your yard before mowing to determine which height your blades need to be set to.
Durability
The Craftsman T240 Riding Lawn Mower features a durable steel body and axel that can stand up to a bit of wear and tear. If you have any trouble with the mower, then be sure to use the 2-year limited warranty.
Engine & Transmission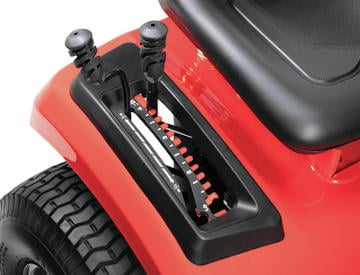 This lawnmower has an impressive engine and transmission. The model uses a 22 HP KOHLER twin-cylinder 7000 series engine along with a foot pedal hydrostatic transmission for better control of the mower's speed. The T240 can go 5.5 miles per hour, both going forward and in reverse for quick backtracking. The fuel tank has a capacity of 3 gallons so that you can mow for long periods of time without having to refuel.

Maneuverability
If you're looking for a great riding mower than can easily maneuver around objects, then this is the perfect model. The Mower has an incredibly small turning radius of 18-inches which you will find is perfect for crowded yards. While it isn't a zero-turn mower, it still does a great job of cutting down on mowing time while allowing consumers to move freely around obstacles.
Weight & Size
The Craftsman T240 is a bit heavier than other riding lawn mowers. This model weighs in at a staggering 590 pounds making it near impossible to move when not turned on. The model will also need a considerable amount of room for storage. The Craftsman T240 Riding Lawn Mower measures 71.8 inches by 51 inches by 47 inches.
Comes Assembled
If you order this model online, it will come almost fully assembled. The only catch is you will have to hook in the seat and attach the steering wheel. This is easy to do, and the mower comes with detailed instructions to help you with the process.
Design & Comfort
This is one of the more comfortable models on the market. The Craftsman T240 Riding Lawn Mower features an adjustable high back seat that makes hours of mowing more comfortable. The mower's seat is easy to clean and even cushioned to provide more support while you work.
Like any of the best lawn mowers, cleaning up grass clippings can be made easier. You can purchase an aftermarket bag or mulcher to make cleaning up easier. The model already comes with a useful deck wash feature to make blade cleaning a breeze. Simply hook in your water hose when you finish mowing to wash away harmful debris.
Storage of Craftsman T240 Riding Lawn Mower
One of the most important parts of owning the Craftsman T240 Riding Lawn Mower is storage and care. The model is made from durable steel, but can still rust if left in the rain. You will want to store the T240 in a covered dry building or garage. Make sure to check the gas and oil levels before each use. You will also need to perform a yearly tune-up to ensure everything stays in running order from year to year. Make sure to clean your mower off after every use to remove excess clippings.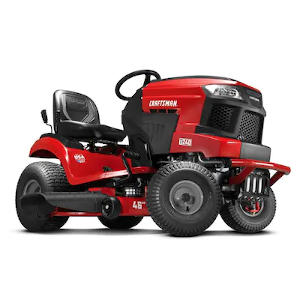 Craftsman T240 Riding Lawn Mower Manual
Craftsman T240 Riding Lawn Mower Summary
Craftsman T240 Riding Lawn Mower
Craftsman T240 Riding Lawn Mower Review Summary
The Craftsman T225 Riding Lawn Mower is great for larger yards with obstacles you need to move around. The mower has a high fuel capacity and can even go in reverse. This makes mowing a yard simple, and you won't have to worry about having to circle around if you've missed a spot.
The worst part about this mower is its low cutting height. With the blades only able to be set to 4-inches, higher than average lawns may not be compatible with this mower. Still, the model does allow you to choose between a wide range of height options.