We are an Amazon Affiliate
Our site is supported by you, our readers! This page contains affiliate links, which means we may earn a small commission if you click through and make a purchase - you will not pay any extra. More details
here
.
Welcome to Green Grass Mower, where we give you an in-depth look at lawn care technology. Today we are going to be taking a look at the Cub Cadet Ultima ZT1, a comfortable riding mower that will make your yard work a breeze. Cub Cadet has crafted a wonderful mower perfect for taking on larger yards, with adjustable bars and enhanced seating.
To top it all off, the Cub Cadet Ultima ZT1 is a durable mower that will last you for years to come. Keep on reading below to learn all about the Ultima ZT1 and how it could make your yard work easier.
Deck Size
The Cub Cadet Ultima ZT1 has quite a few wonderful cutting deck features. The width of the cutting deck is exactly 50 inches making it easier to get larger strips of grass all at once. Also, the Ultima ZT1 comes with an easy to adjust deck height and has a cutting range of 1 inch to 4.5 inches. The varied cutting height lets you get an extremely short lawn, or perform a slight trim.
The mower comes with a spring assist foot pedal that allows you to choose from 15 different deck postilions. To top it all off, this mower has a triple blade deck with an electronic fingertip blade engagement built-in.
Durability
The Cub Cadet Ultima ZT1 is durable. The deck itself has 11-gauge fabricated steel. The frame is made from 2-inch by 2-inch tubular steel. To make owning this model even sweeter, Cub Cadet coated the Ultima ZT1 in their Ripple Guard Corrosion Defense System. The coating helps to keep your mower from corroding even after years of use. Even the seat of the Cub Cadet UltimeaZT1 is designed to stand up against wear and tear.
The wheels are made of Fixed 2 inch by 2.5 inches and a fully welded tubular steel axle with 1/4 inch steel yokes. Additionally, the mower is protected by a 2 inch by 2-inch all-steel bumper. If you run into problems with the durability of your shell mower, simply contact Cub Cadet to use your lifetime limited warranty.
Engine & Transmission
Cub Cadet uses a powerful Kawasaki brand motor in the model. The motor is the Kawasaki FR Series V-twin OHV with a 3.5-gallon fuel capacity. The model has an Engine Displacement of 726cc with an Engine Output of 23 HP. The Ultima can easily mow up to 4 acres of land on this fuel requirement and has enough power to conquer small hills easily. The drive system is a Dual Hydro-Gear EZT-2200 with a max speed of 7 mph and a reverse speed of 4.5 mph.

Maneuverability
Cub Cadet Ultima ZT1 is made with a turning radius of 0 degrees to give you the ultimate freedom to mow as you please. The front wheels are made of a smooth tread, with dimensions of 11 inches by inches by 5 inches. These front wheels also have a pivot of 180 degrees with no turf damage.
The Ultima's read tires are even more impressive with dimensions 0f 20 inches by 8 inches by 8 inches. The rear tires are turf master premium allowing you to traverse uneven lawns and leave less turf damage while mowing
Weight & Size
The Cub Cadet Ultima ZT1 is a smaller 585 pounds making it difficult to move when not turned on. Unlike many riding mowers that can easily reach over 600 pounds, the Ultima ZT1 is perfect for more sensitive lawns. Always have gas on hand in case you need to move the mower. The model is rather large as well and will need ample room for storage. The Ultima ZT1 dimensions are 80 inches by 61 inches by 47 inches.
Comes Assembled
The Cub Cadet Ultima ZT1 does come assembled but has easy to change parts that allow you to perform maintenance. In addition, the Cub Cadet website lists the different types of maintenance this model will need along with a thorough guide on how to properly fix small issues that may occur with your mower.
Design & Comfort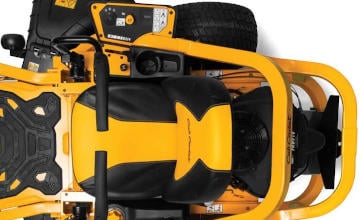 Cub Cadet designed this model with your comfort in mind. Not only is it a riding mower that already makes lawn care easier, but it has added comfort features that you're sure to love.
The seat of the Cub Cadet Ultima ZT1 is not only made to be durable, and is adjustable to fit your height perfectly. This ergonomic seat is 18 inches tall to make sure your back is completely comfortable while you mow. The suspension system is durable enough to keep you in place while you mow. Finally, the mower uses a bar system instead of a steering wheel to control the mower which may be a bit strange to new users.
Storage of Cub Cadet Ultima ZT1 Review
The Ultima has an anti-corrosive coating. Store the model in a large covered shed. Cub Cadet recommends storing your Cub Cadet Ultima ZT1 in a covered dry space where bad weather can't affect the metal. Make sure to regularly check on your mower's blades, belts, oil, and fuel levels. Furthermore, This helps make sure everything is still in proper working order after long lengths of storage.

Recommendation for Cub Cadet Ultima ZT1
As with any mower, make sure to tune up the Cub Cadet Ultima ZT1 and make sure to keep the model clean after use. Luckily, the Ultima comes with an easy wash system. Due to this, the mower will allow you to simply hook up your water hose to the model to get your deck clean. By cleaning out the deck after each use and practising proper maintenance, you can extend the amount of time you use your mower for.
Also, keep in mind that this Cub Cadet product comes with both the limited lifetime warranty on the shell. As well as, a three-year unlimited usage warranty on the mower itself.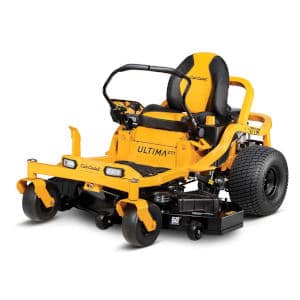 Cub Cadet Ultima ZT1 Lawn Mower Manual
Conclusion Cub Cadet Ultima ZT1 Lawn Mower
Summary
The Cub Cadet Ultima ZT1 is great for larger yards that will require you to mow around objects. This durable model has a frame coated to prevent corrosion along with a comforable 18-inch tall back seat. The Kawasaki FR Series V-twin OHV motor used in this model is powerful and will decrease the amount of time you spend mowing.