We are an Amazon Affiliate
Our site is supported by you, our readers! This page contains affiliate links, which means we may earn a small commission if you click through and make a purchase - you will not pay any extra. More details
here
.
Troy-Bilt Pony 42X Riding Lawn Mower Review
Welcome to Green Grass Mower, where we will take an in-depth look at different lawn mowers to help you find the perfect tools for your lawn. Riding lawn mowers are a great way for you to save time and energy. These powerful machines can power through yard work at speeds a rotary model could only dream of achieving.
Deck Size
The Troy-Bilt Pony has a larger deck size of 42 inches. The deck size of the mower helps to determine how big the cutting swath is. The bigger the deck, the more grass the mower will be able to cut at once.
The Troy-Bilt Pony is perfect for tackling large lawns while still being able to move well around obstacles. To ensure that this mower will be able to take care of all types of lawns, it has five different height settings. These settings will allow you to easily configure your mower to cut your lawn to the perfect height. Remember to check your grass each time before you mow as rain and drought can cause the grass to grow at different speeds.
Durability
If you're buying a mower, then your going to want it to be made out of long-lasting materials that can withstand a few bumps. The frame of the Troy-Bilt Pony 42X is made out of 13-gauge steel, even the axels are made to be durable. This will ensure that the mower can stand up to rain or other instances of bad weather without becoming damaged.
Engine & Transmission
The Troy-Bilt Pony 42X has a Briggs and Straton engine for powerful performance. The riding mower uses a 7-speed transmission along with a 17.5 HP Single Briggs & Stratton engine to get the job done. The mower can reach speeds of up to 5.5 miles per hour and has a fault tank capacity of 1.36 gallons of gas.
Maneuverability
I can not avoid talking about great maneuverability in my Troy-Bilt Pony 42X Riding Lawn Mower Review. This mower will only need 18 inches in order to turn around, allowing you to maneuver around yard ornaments and trees quickly. While this isn't quite as nice as a zero-turn model, it will let you mow a cluttered yard without much of a problem.
Weight & Size
Like most riding lawn mowers, the Troy-Bilt Pony 42X Riding Lawn is going to be rather hard to move if it isn't turned on. The lawnmower weighs in at 490 pounds, making it tough to push around.
You will also need a good amount of room to store this model as its dimensions are huge. The Troy-Bilt Pony 42X Riding Lawn measures 70.5 inches by 48 inches by 35.5 inches. Keep the size of this mower in mind when shopping around for a riding lawn mower, as this isn't a huge model.
Comes Assembled
Like most lawn mowers models you buy from Troy-Bilt the 42X will come completely assembled. This is so that you don't have to worry about putting your new tool together.
Design & Comfort
In addition, this lawnmower comes built with a low back seat and a step-thru design. This basic build will allow you to quickly get into a position to mow without having to work your way around the frame. You can easily adjust the seat to fit your height so that anyone can use this mower. The 42X even comes equipped with two bright headlights that allow for mowing late into the evening.
Once you bring this model home, you can also choose to equip a variety of accessories to make grass clippings easier. The Troy-Bilt Pony 42X Riding Lawn can be equipped with a bag to gather clippings or either a mulcher. If you want to add additional protection, you can even add on aftermarket bumpers that will absorb the shock of small impacts.

Storage of the Troy-Bilt Pony 42X Riding Lawn Mower
One of the most important aspects of caring for a mower is practising proper storage and maintenance. You will need to make sure to check your mower's oil and gas levels regularly. If you haven't mowed in a while, then you should also consider giving the 42X a tune-up.
The mower should be stored in a safe, dry building. If you leave the mower out in the rain, then it will rust over time and eventually stop working.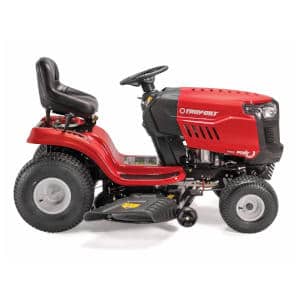 Troy-Bilt Pony 42X Lawn Mower Manual
Conclusion Troy-Bilt Pony 42X Lawn Mower
Troy-Bilt Pony 42X Review Summary
Practice proper maintenance and clean off your lawn mower. Likewise, 42X is a great pick for bigger yards but does have a smaller gas tank. If you don't mind having to stop for refills though it's small turning threshold is perfect for yards with lots of trees. Overall, the 42X is a solid mower that will be a perfect choice for most yards.