We are an Amazon Affiliate
Our site is supported by you, our readers! This page contains affiliate links, which means we may earn a small commission if you click through and make a purchase - you will not pay any extra. More details
here
.
The Snapper Classic Rear Riding Lawn Mower is a simply designed model. Instead of a bulky design, the Snapper is sleek and classic. The model will easily be able to mow small to medium yards without a problem. The smaller size even makes this the perfect riding mower for those who don't have a lot of storage space available. If your looking for a model that won't cost you a lot of money and has precise cutting blades, then the Snapper Classic Rear Riding Lawn Mower may be for you.
Deck Size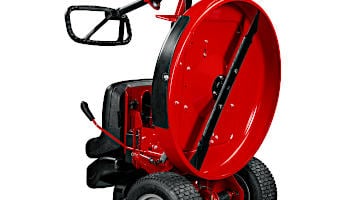 The Snapper Classic Rear Riding Lawn Mower has a smaller deck size that can accommodate smaller yards. The model mowing swath is only 28-inches and can easily move around obstacles.
The cutting height ranges between the classic 1.5 to 4 inches to care for yards long and short. You can even choose from five different cutting heights, just make sure to check your grass each time before mowing. If you have a bigger yard, you may find that this mower won't work well for you.
Durability
While this model isn't going to be able to take any major damage, it is still pretty durable. The mower may be simple, but it is built to withstand small collisions. The body and axles are made out of steel, and the model should last you for years to come.
Engine & Transmission
The Snapper Classic Mower isn't the most powerful mower on the market, but it has a solid engine. This model features an 11 Hp Briggs and Stratton Intek engine with a Disc Drive Transmission. This unique transmission allows for optimal airflow to precisely cut even more grass than other models. The Snapper Classic Rear can reach speeds of 1 to 4 miles per hour. The mower has a fuel tank capacity of 1.35 gallons, which is a bit small but perfect for tiny lawns.
Maneuverability
Since the Snapper Classic Rear Riding Lawn Mower is so small, it's perfect for crowded yards. The biggest downside is the large cutting radius of 28 inches. The mower can fit between smaller obstacles and has a tiny turning radius. This allows you to mow some of the most cramped spaces without having to worry about getting stuck.
Weight & Size
As mentioned above, the Snapper Classic Riding Lawn Mower is pretty small (for example in comparison with Troy-Bilt Pony 42X). The mower only weighs around 377 pounds making it one of the lightest riding mowers available. It also takes up far less space than other mowers and measures 66 inches by 32 inches by 43 inches. In addition, the model is made to be stored standing up, saving even more room in your garage or shed.
Comes Assembled
This mower will be delivered to your home assembled so that you can get started with your lawn care right away. With the Snapper Classic Rear Riding Lawn Mower, you don't have to worry about doing the complicated assembly.
Design & Comfort
The Snapper Classic Rear Riding Lawn Mower has a very basic design. The mower has a low back seating hand is made for short stints of mowing. If you wish, you can add on a bag for collecting grass or mulching to make cleaning up grass clippings easy.
Storage of Snapper Classic Rear
Like with any type of mower, the Snapper Classic Rear Riding Lawn Mower needs proper storage. Make sure to never leave your mower out after you are finished using it. Rain can cause the body of the mower to rust over time and even void your warranty.
As an added bonus, this mower is made so that it can safely be stored while standing upright. This innovative design was created for those who are only working with a minimal amount of room. You should also take care to perform regular tune-ups on this model to ensure it stays in working condition. The basic style of this mower does give you less to worry about working with.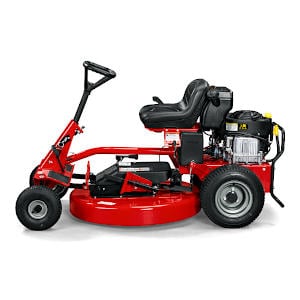 Snapper Classic Rear Riding Mower Manual
Conclusion Snapper Classic Rear Riding Mower
Snapper Classic Rear Mower
Snapper Classic Rear Mower Review Summary
If you're looking for a small mower that can fit in tighter spaces, then this model might be for you. Keep in mind that the Snapper Classic Rear Riding Lawn Mower isn't a powerful model made for bigger yards. While it isn't slow, it's low fuel capacity and small deck size will cause the amount of time you spend mowing to greatly increase.
If you have a bigger yard, we recommend you take a look at other models: Husqvarna or Craftsman. The mower also has an incredibly large turning radius of 28-inches, but the precision cutting blades do make up for this setback. It make sense to look at the zero turn mowers.