We are an Amazon Affiliate
Our site is supported by you, our readers! This page contains affiliate links, which means we may earn a small commission if you click through and make a purchase - you will not pay any extra. More details
here
.
Husqvarna Z254 Review
Welcome to Green Grass Mower, the site where we take a close look at mower models to help you identify a perfect mower. If your looking for a zero turn mower, then the Husqvarna Z254 may be right for you. The Husqvarna Z254 models have performance and durability in mind. Husqvarna made this model with a large deck, a durable frame, and be low maintenance.
If you're looking for a great starter mower for a big yard, then this model may fit you perfectly. Keep reading below to learn all about the Husqvarna Z254 to determine if this will be the perfect model for your lawn.
Deck Size
The Husqvarna Z254 comes equipped to tackle large lawns in less time thanks to a generous deck size. This model features a deck that is 54 inches in size. The Z254 has a cutting height minimum of 1.5 inches and a maximum cutting height of 4.5 inches. You will need to use a manual system to adjust the deck height. The Z254's height is perfectly in line with most yard care experts' limits and will be able to give you a clean-cut lawn that looks great.
If you have a more sensitive lawn or just need to do a small trim, the 4.5-inch height setting will come in handy. The blade engagement for this model is done completely through an electric clutch. The deck also uses the new air-induction technology. This feature also helps to pull the grass as you cut for a cleaner looking yard and more accurate cut.
Durability
Husqvarna made the Z254 with durability a priority. Just the cutting deck of this model has 12 gauge reinforced steel to handle tough yards. Likewise, the frame of this mower is made out of steel and a seat of durable vinyl that will last for years. Both the front of the mower and the engine are protected by guards to make sure small accidents don't total the machine.
Along with the control panel, you will find rubber that keeps water from getting inside the unit. If you do run into a problem, then you can contact Husqvarna to redeem your three-year limited warranty.
Engine & Transmission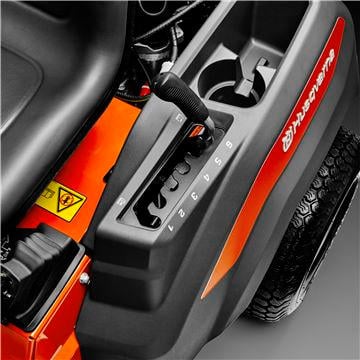 The Husqvarna Z254 has a Briggs and Stratton engine with several helpful features. This engine is made with premium filtration, finished bearing surface chrome vales, and an oversized cooling fan.
The engine has a power output of 24 hp, with two cylinders for power. Due to this, on a full tank of gas, you can move around 2.8 acres of land in total. The speed of the Husqvarna Z254 is 6.5 mph when maxed. The gas tank can hold 3.5 gallons of gas at a time. Husqvarna Z254 uses a ZT-2200 Hydrostatic transmission by Hydro-Gear. Be sure to check and tune up your mower to keep it running smoothly.
Maneuverability
Like with most zero-turn mowers, the Husqvarna Z254 is easy to use and has a turning radius of 0. This also makes it easier to double back for spots you may have missed while mowing. Also, the front and rear tires for this model measure 6 inches by 11 inches by 5 inches. We suggest looking at our Troy-Bilt Mustang 54 Review as well.
Weight & Size
Husqvarna Z254 is not a heavy riding mower at 542 pounds. This weight will let you take care of even some of the more sensitive lawns without causing damage. The mower is large and will take a considerable amount of room to store. The Husqvarna Z254 measures 75 inches by 64 inches by 57 inches in total.
Comes Assembled
The Husqvarna Z254 comes to your home completely assembled and takes little maintenance to get started. Husqvarna designed the Z254 to need as little work as possible by the buyer. If you do need to access the mower for maintenance, then the mode comes with an easy-open hatch. This hatch will pop up allowing you full access to your deck for maintenance.
Like with most models, you can find the manual and helpful repair instructions on Husqvarna's website. Additionally, you can also find some common parts available for purchase on the site.
Design
First off, the Husqvarna Z254 is easy to use and care for. The start-up for the mower is simply made. The Z254 comes equipped with an easy start panel with a choke system. Furthermore, the seat while not cushioned is made to be slightly adjustable to fit your various height needs. The control panel has an ergonomic design that leaves the controls at your fingertips. This mower uses levers instead of the classic steering wheel design new mowers use.
In addition, you will notice that Husqvarna made the Z254 with an automatic braking system and anti-slip footing areas. Husqvarna Z254 also gives you the option to collect, discard, or mulch your grass clippings. Likewise, these options can help to make clean-up after you finish mowing a breeze.
Storage of Husqvarna Z254 Review
As mentioned above, the Husqvarna Z254 is a larger unit that will need plenty of room for storage. Likewise, the Z254 shouldn't be left out during bad weather, because the model will rust. You should take care to check the mower after a long period of storage to ensure that fuel levels, oil levels, and the other components of the mower are still in proper function condition. Make sure to keep spare gas on hand in case you need to move your Husqvarna Z254.
Recommendation
Make sure to provide plenty of aftercare for your Husqvarna Z254. Also, by simply using the easy clean deck system and wiping your unit down after each use, you can extend its life. For deck cleaning, you simply need to hook your water hose up to the attachment and give the blades time to wash off. Also, if you have any mechanical issues out of this model within a three-year window, contact the company to use your warranty.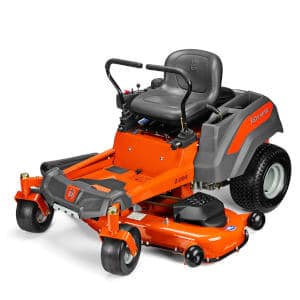 Conclusion Husqvarna Z254
Summary
The Husqvarna Z254 is perfect for larger lawns that have plenty of trees or obstacles in the way. This mower requires little maintenance thanks to its ZT-2200 Hydrostatic low maintenance transmission. The Briggs and Stratton engine is powerful and will making cleaning up your yard a breeze.