We are an Amazon Affiliate
Our site is supported by you, our readers! This page contains affiliate links, which means we may earn a small commission if you click through and make a purchase - you will not pay any extra. More details
here
.
Welcome to Green Grass Mower, and thank you for trusting us with your lawn care needs. Today we present to your attention Troy-Bilt Mustang 54 review an excellent option in zero-turn mowers.
This model comes equipped with a large cutting swatch and a powerful engine to get your yard mowed faster. The Troy-Bilt Mustang 54 is made for big yards and designed with durability in mind. To find out if the Mustang 54 is the perfect mower for you, take a look at our in-depth review of the model below.
Deck Size
The Troy-Bilt Mustang 54 comes with a large deck to tackle large lawns. As its name implies, this model has a 54-inch deck with durable blades. In addition, these four blades are anti-scalp for added yard protection. The deck is managed by an electric PTO that quickly signals the blades. The deck features eight different height postilions to ensure you're getting the perfect cut.
You can adjust the deck between heights as low as 1.5 inches to as high as 4 inches. The height can be adjusted using the lever on the side of the mower. This allows you to quickly and easily change between heights while you are mowing your lawn.
Durability
The Troy-Bilt Mustang 54 was made to be durable so that it can be used for long periods of time. For starters, the frame of this mower is made out of heavy-duty steel along with the mower's front axle.
The cutting deck is also surrounded by reinforced flat-stock steel so that you can rest easy knowing your blades are protected. Like most models, the Troy-Bilt Mustang 54 also comes with a protective bumper to give you extra security. If you notice any issues with your frame, then contact Troy-Bilt to check on your lifetime limited warranty.
Engine & Transmission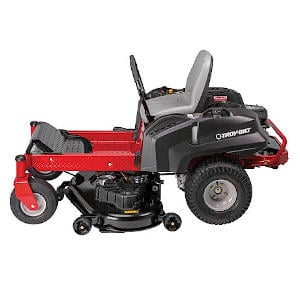 If you want a powerful engine, then the Troy-Bilt Mustang 54 has you covered. This mower has a Twin Briggs & Stratton engine with 25 hp. The Mustang 54 can reach up to 7 mph when going forward and 2.5 mph when in reverse.
It has a fuel capacity of 2.8 gallons that will help you mow around 3 acres each time you fill the tank. As for the transmission, this model uses a Twin hydro Dual EZT to help give your mower the optimal amount of power. In addition, the transmission is designed to need little to no maintenance.
Maneuverability
The Troy-Bilt Mustang 54 is an easy to maneuver machine that will cut down on long turn times. In fact, this model has a 0 angle turn requirement that will make backtracking a breeze. If you find that you have a yard with tight turns, then this model may be perfect for you.
Weight & Size
Weight can determine how likely a mower is to damage a sensitive lawn. The Troy-Bilt Mustang 54 weighs a staggering 800 pounds that is best used for medium sensitivity to avoid crushing your lawn. Outside of powering the mower with fuel, the weight makes it hard to move when turned off.
Have to say in our Troy-Bilt Mustang 54 review the mower will also take a considerable amount of room to properly store thanks to its large size. It measures 35.5 inches by 83.5 inches by 63 inches. Keep in mind that the weight and size go up if you choose to add on the bag attachment that Troy-Bilt offers for the Mustang 54 model.
Comes Assembled
Like most mowers, the Troy-Bilt Mustang 54 does come to your home fully assembled and requires little to no work on your part to get set up. You will also be delighted to know that Troy-Bilt made the transmission of this mower to have little to no maintenance needed so that you can mow worry-free.
If you want to buy the additional bag for collecting grass, then you will have to assemble it yourself. The processes of adding on a bag or mulch kit are easy, and instructions will be provided with your order.
Design
Not only is the Troy-Bilt Mustang 54 designed to be durable, but it is also designed for comfort. This mower features a high-back seat that is 18 inches tall to fit the taller mower's needs.
The seat is even made to vibrate less than other models' seats as you mow. In addition, both the seat and the bars can be easily adjusted to fit your needs. The mower is controlled by the bars in front of you instead of a classic steering wheel.
While this may be strange to first-time mowers, the model is designed to be easy to steer. The Troy-Bilt Mustang 54 is also designed with extra braking to help enhance safety while in use. Lastly, the Mustang 54 model even has an hour meter so you can better track your gas usage and time spent mowing.
Storage of Troy-Bilt Mustang 54
Like most riding mowers, the Troy-Bilt Mustang 54 is a larger model that will need a large shed or garage to be stored appropriately. If you leave this model in the weather, it will eventually rust, causing performance issues in the future. Make sure to check oil and gas levels after taking the mower out of long periods of storage. Many tips and tricks can be found on the Troy-Bilt website to help you with part replacement and maintenance for the Mustang 54.
Recommendation
If you plan on buying the Troy-Bilt Mustang 54, then make sure to clean it after every use. This model comes with an easy to use deck wash that you can hook your water hose up to. Simply make sure to clean out the debris after every use to extend your mower's life. Keep in mind that the Troy-Bilt Mustang 54 is made with a no-maintenance transition that is great for new owners. If you do run into an issue, contact Troy-Bilt to use your three-year warranty. Keep in mind that the frame also has a limited lifetime warranty in case of malfunction.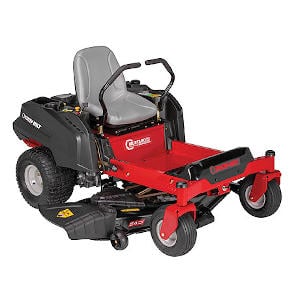 Troy-Bilt Mustang 54 Lawn Mower Manual
Conclusion Troy-Bilt Mustang 54 Lawn Mower
Summary
The Troy-Bilt Mustang 54 Review is great zero turn mower that can handle large yards. This powerful mower uses a Twin hydro Dual EZT and can hold 2.8 gallons of gas.
This mower can easily mow around three acres, and will cut down the time it takes you to complete your yardwork.