We are an Amazon Affiliate
Our site is supported by you, our readers! This page contains affiliate links, which means we may earn a small commission if you click through and make a purchase - you will not pay any extra. More details
here
.
Welcome back, dear reader! Today we will be covering The Greenworks MO09B01 in our The Greenworks MO09B01 Review! Greenworks are a superb eco-friendly brand, that offers products with a neutral carbon footprint. And the Greenworks 14-Inch 9 Amp Corded Electric Lawn Mower MO09B01 is another shining example of their eco ethos. The Greenworks MO09B01 is a light-duty push mower with a 14-inch rotary blade that will be great for small flat lawns and those looking for a wider range of cutting height options on a light-duty mower.
Key features
– 9 Amp Electric Motor
– 14-inch blade
– Offers mulching and rear discharge capabilities
– 5 position height adjustment
– 7-Inch rear wheel and 6-Inch front wheels
– Easy start button that doubles as a safety switch
– 33.3 lbs
– 50.4 x 15.8 x 40.47 inches
– Foldable handles
– Quiet
Performance
Engine
To start, the engine on the Greenworks MO09B01 is a 9 Amp Electric motor. Honestly, we're slightly deflated by the power this mower offers. Something like a 12 Amp would have been preferred- especially given its already fair weight at 33.3 lbs. The electric motor itself is corded and well put together, so you shouldn't have to worry about it cutting out or having slumps in power.
Additionally, the Greenworks MO09B01 is a manually propelled mower, which does mean the user has to get involved in pushing the mower forward. The mower is slightly heavier than we would prefer, so it's more cumbersome to move forward. However, not to the point that you break a sweat. Lastly, it features an easy start button that makes it a doddle to start- no hard pulling of a cord. If you are looking for more old school petrol mowers, check out our Honda 662950 Review! alternatively, continue reading The Greenworks MO09B01 Review to learn about the deck!
Deck
When it comes to the deck, the Greenworks MO09B01 has a 14-inch blade that offers a good cutting width for a lighter duty mower. The greater width allows for you to get your lawn cut in fewer passes.
A highlight of the Greenworks MO09B01 is its 5 position cutting height adjustments – ranging from 5/8 inch to 2 and 5/8-inch – which allows you to get creative with your lawn. Though we recommend staying away from 5/8 inches on hilly bits of a lawn, as it may scalp the tops of bumps.
A downside is that it's a heavier end light-duty lawn mower at 33.3 lbs. That's heavier than we'd expect for a 14-inch blade and 9 Amp. For that weight, we'd have preferred a gutsier engine – there are lighter 14-inch mowers that have 12 Amp engines. Finally, it's a fair size for a light-duty mower at 50.4 x 15.8 x 40.47 in, though it's still relatively small and compact. It makes little impact on its ease of use.
Ease of use
The Greenworks MO09B01 has 7-Inch rear wheels and 6-Inch front wheels. The slightly larger rear wheels make for easier pivot turning. This allows for a more precise and selective mowing, which when teamed with the wide range of cutting heights make Greenworks MO09B01 excellent for those looking for more decorative and artistic lawns and gardens.
As the Greenworks MO09B01 is electric, it's also far quieter than gas mowers – indeed because of its 9 Amp engine it's even quieter than a heavier duty electric.
To aid in storage, the mower also has foldable handles.
Grass clippings
The Greenworks MO09B01 provides mulching and rear discharge facilities, depending on the need of the user. There is no bagger option, which is understandable for it would have contributed to the weight, so we're glad it was omitted.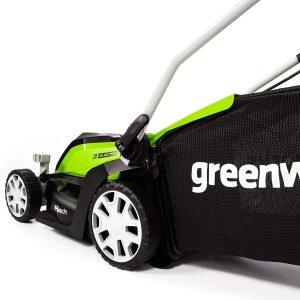 Safety features
The Greenworks MO09B01 has an easy start button, which also features as a safety switch. Providing an additional layer of protection from accidental or false starts.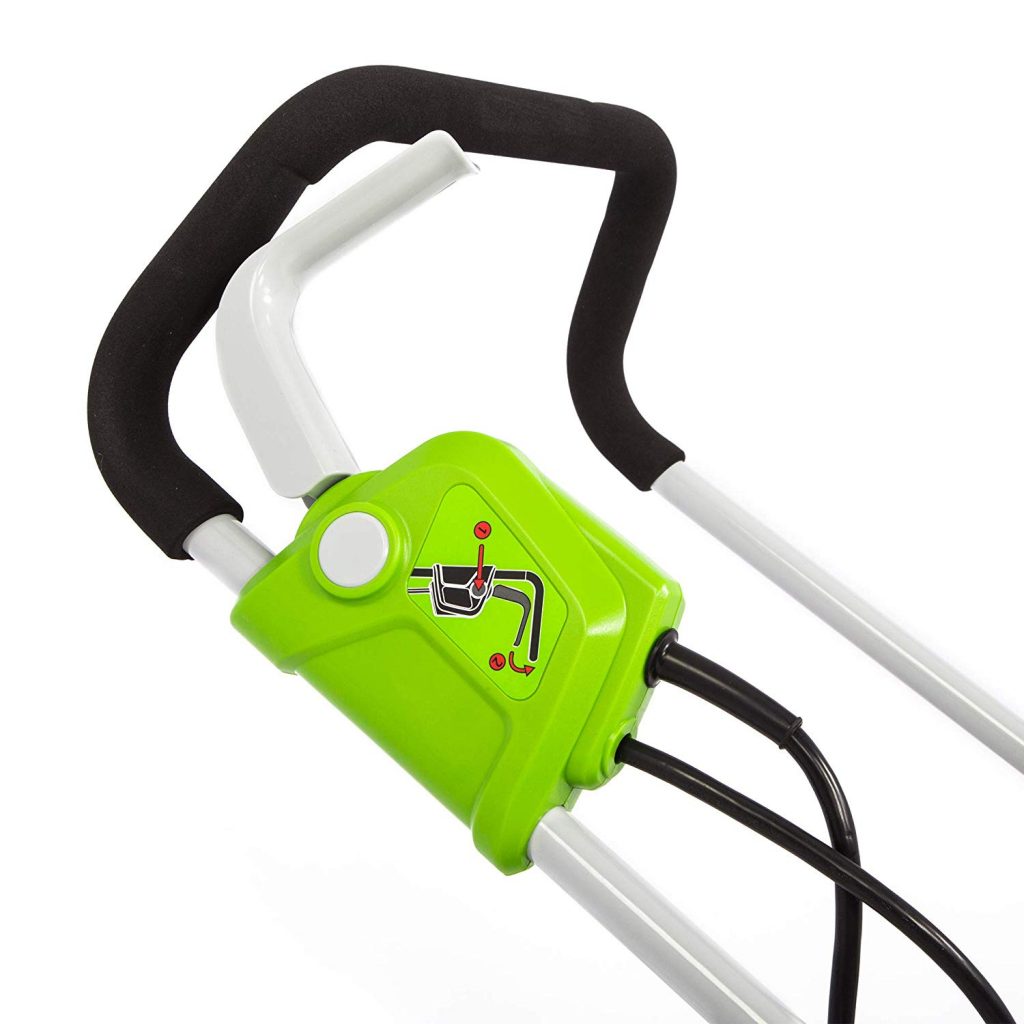 Cost-effectiveness
Electric mowers are inexpensive, because they don't need oil changes, nor do they need to be topped up with fuel every use.
Being 9 Amp's, it shouldn't put too much of a strain on your electric bill. One of the virtues of a slightly weaker but efficient engine. Now, the next section of The Greenworks MO09B01 Review will be covering maintenance!
Maintenance
The main thing you need to worry about with the Greenworks MO09B01 is not running over the cord. The best way to avoid that scenario is to mow away from where the cord is plugged in and make sure it's behind you.
Secondly, to simply keep the mower trimming with peak efficiency and an excellent cut, give it a wash with a hose or pressure washer after each use. That will maintain the blade and components from rust and mildew that could be caused by decomposing stray grass clippings.
Pro's and Con's of Greenworks MO09B01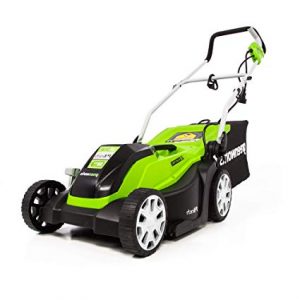 Greenworks MO09B01 Lawn Mower

 Manual
Review Conclusion Greenworks MO09B01 Lawn Mower
Summary
The Greenworks MO09B01 is a little heavier than some competing mowers and its engine doesn't give as much power as we'd like. That said, it still provides a decent cut and offers a larger range of cutting height options than some of its light duty mower competitors. It's also very cost effective and quiet- so it won't disturb your neighbours, nor deafen you. The Greenworks MO09B01 will be excellent for those with small, flat to slightly bumpy lawns, or weaving garden paths, who are environmentally and economically conscious and potentially looking for a range of aesthetic grass heights as part of a garden. We give it a 4 out of 5!