We are an Amazon Affiliate
Our site is supported by you, our readers! This page contains affiliate links, which means we may earn a small commission if you click through and make a purchase - you will not pay any extra. More details
here
.
Troy-Bilt 382cc 30-Inch Premium Neighborhood Riding Lawn Mower
Welcome back! It's that time of the year, when you need to choose a new lawnmower, to keep your grass in tip-top condition. To make your job easier, here is our Troy-Bilt 382cc Review. Troy-Bilt 382cc 30-Inch Premium Neighborhood Riding Lawn Mower is a powerful, little petrol-driven mower that packs quite the punch with its 382cc Auto Choke OHV engine with its top forward speed of 4.25 MPH, which means it goes like a stabbed rat and provides 6 different speeds in total.
The engine itself is built to last and if maintained provides consistent speed and trimming. It handles hills of 15 degrees or more with relative ease and little to no loss of power. The 30-Inch cutting deck with a rotary blade provides excellent ground coverage and makes for easier maintenance and consistent grass cutting length. The fuel tank has a good size of 1.3 gallons, with a window that acts as a fuel gauge. With this, you'll always know when to top it up with fuel. The rotary blade has 5 optional cutting heights, to provide the cut you want. It's a key start, so you won't be breaking your back turning it on.
Overview Of Troy-Bilt 382cc
Dimensions
The Troy-Bilt 382cc Riding Lawn Mower is also small with 13 x 5 inches front wheels, and larger 16 x 6.5 inches rear wheels. Its total size is 62 x 34 x 26 inches, so it easily fits in your garage, conservatory or shed. It's the size of a large suitcase. The nimble 18-inch turning radius, rear-wheel drive and small size along with the manual power take-off (PTO) for simple blade activation, allow for it to get into nooks and crannies that larger riding mowers wouldn't.
Weight
For a ride-on mower, it is also super lightweight, weighing only 336 lbs! It certainly won't be leaving any huge track marks or wheel impressions on your lawn! For a rider, we're worried it won't blow away with the wind.
Design
This mower is built for comfort! The seat has a back, the steering wheel is a 13-inch soft grip wheel that absorbs vibrations, and may be adjusted to your preferred height. our favourite feature because it really shows how fun and friendly this mower is, prioritizing comfort.
This mower even comes with a cup holder. It's all comfort and leisure. You can spend your afternoons racing around your garden, mowing, in luxury. Drinking tea, coffee, or whatever takes your fancy. Would you like to know how to keep your mower in pristine condition? Keep reading out Troy-Bilt 382cc review to find out!
Cleaning and Discharge Option
The mower also has a washing feature, where you can connect a hose whilst the mower is running to clean the rotary blade. As well as a hitch so you can attach carts behind it. The grass discharge options are side-discharge or mulch. But as an optional extra, you can purchase a bagging kit addition.
Transmission Lever
The transmission lever, whilst working perfectly, is inconvenient, being placed in front of the seat, between the legs of the rider. This means it's a bit awkward to use and feels unnatural. Though, this is a minor design complaint. It also scalps the grass a bit with the wheels on the peaks of hills. But this is avoidable by switching cutting height options.
Driving In Reverse
The mower also does have a reverse option, but it does not cut in reverse – so it does not function as a no turn lawn mower- it is forward drive mowing only!
How To Maintain
Washing
We recommend washing after each use to maintain the engine and sharpness of the blade. It extends the life of your mower and keeps your lawn in great condition. But with this mower, you've got no excuses for not cleaning it because it has the hose attachment, so it cleans itself.
Fuel
Keep it topped up with oil and petrol. You do need to take the effort to make sure you change the oil and drain the tank once a year to keep it in peak condition. But this is to be expected from all petrol-powered lawnmowers. There's no way of getting around it, it's just how they work. If this isn't your bag, look to electric or manual spinning lawnmowers. It obviously emits fumes, so it's not particularly environmentally friendly, but again that's just part of it being a gasoline-powered mower.
Recommendation
Additionally, cutting height 1 offers a very, very close cut, so this setting is to be used only for those who don't want to cut their grass often, because it essentially scalps the grass, leaving the lawn quite ugly. We recommend using at least height option 2 or higher (remember it goes up to 5).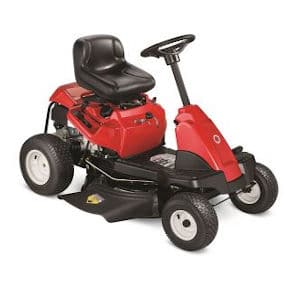 Troy-Bilt 382cc 30 inch Lawn Mower Manual
Conclusion Troy-Bilt 382cc 30 inch Lawn Mower
Conclusion
All in all, the Troy-Bilt 382cc 30-Inch Premium Neighborhood Riding Lawn Mower really shines. This tech is ideal for medium to large lawns with roughly flat yards. Its powerful, it's fun, it's easy to maintain for a petrol mower. It provides luxury without scrimping on mowing quality. And it does all of this whilst being compact and light. It's our favoured all purpose riding mower. Overall, we give it a great 4 out of 5!
If you want have a look best lawn mowers.