We are an Amazon Affiliate
Our site is supported by you, our readers! This page contains affiliate links, which means we may earn a small commission if you click through and make a purchase - you will not pay any extra. More details
here
.
Robomow RS612 Robotic Lawn Mower Review
The grass is getting long and you don't want to have to deal with pushing around that heavy piece of machinery. Especially under the overbearing sun.  Enter the Robomow RS612 part of a new series of robotic mowers that are changing the way that people mow. Lawn mowing no longer has to be a difficult task. With a price tag that lets it sit a bit above the entry-level market how does this model stand up? It'll certainly be a solid contender for getting the job done when you can't rely on your teenager.
However, the difference between theory and actual results is often a bit disappointing. We will be going through the build quality, setup, and amount of effort required. Finally, we'll cover how well this mower does the job so you can make an intelligent purchase.
Installation
Before we get into the actual machine itself. You will probably want to know how much effort it is going to take to set up. Like many other robotic mowers, this mower operates by starting with setting up wire boundaries to let it know where it needs to mow. The perimeter can be set above ground or a few inches beneath the surface.
A power base is included for charging which should be placed in a safe area out of the rain if possible. Proper positioning will improve the overall longevity of the product. Once you've set up your perimeter and base all you need to do is program a few functions and you're ready to go. In total, the setup should only take around 3 hours.
Design
Upon first look, there aren't too many fancy parts about this particular model. It comes in a basic color scheme of green and black which is relatively standard while some other mowers offer multiple color options. One nice part of the design is its 22-inch diameter which puts it on the higher end compared to most mowers that average around 18. Along with this large diameter, it also has blades that extend to the edge of the base which means you won't have to worry about following up with an edger. With two large stainless-steel blades, this mower is effective at cutting through thick grass.
Features
Taking its price tag to heart this robotic mower has plenty of nice features that help boost its value. One of its more unique features is the rain sensor that allows it to detect when rain is starting to fall so it can wait it out at its base. This model also handles slopes pretty well with a pitch that allows it to effectively cut on lawns up to a 35-degree incline.
The Robomow RS612 is also equipped with an eco-mode which lowers its power to reduce its carbon emissions which is a nice touch. Like many other robotic mowers, you can handle most of the controls through a phone app for remote accessibility. Following that up you can program this mower to operate differently in different zones. This will allow you to set up different lengths or even perhaps some lawn art.
Moving on to safety this model is equipped with a child lock which is surprisingly rare for robotic lawnmowers. One feature that isn't quite as rare is its ability to stop the motion when the mower is picked up off the ground. On top of that, you have an anti-theft feature that will start an alarm when the Robomow is picked up until your personal identification number is entered.
Performance
The RS612 from Robomow is pretty much a stud for mowing lawns. After setting up and running an initial mow you can easily see how efficient this model is. With the features that allow it to handle almost any type of backyard terrain all the way to the edge. This mower is one of the most efficient options out there. Scheduling allows you to get a nice lawn while you vacation. When you also throw in all the extra safety features it fits well into the family setting.
This mower is made to handle most small to medium size lawns up to 1/4 of an acre with a single charge. You also have a quiet operating sound that comes in at just 68 decibels. The stainless-steel blades are also pretty easy to replace.

Pros And Cons of Robomow RS612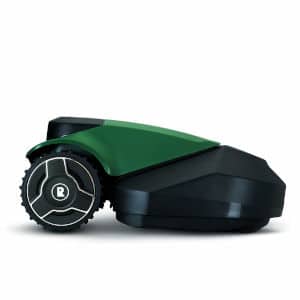 Review Conclusion Robomow RS612
Robomow RS612 Review Summary
While there isn't much to complain about when it comes to this robotic lawnmower. That could depend on how much you've been shopping. It is pretty good at getting the job done in a quick and expedient fashion with tons of solid features. However, with a price tag that often sits around $1500, it isn't the most affordable. Especially when you consider you can find some ½ acres mowers around there.
When you throw in that it shares the same installation procedure with other models that will cost a few 100 less you can see the issues. Still, this model is an effective solution if you are looking for its features and it isn't so wildly priced that the value isn't there.