We are an Amazon Affiliate
Our site is supported by you, our readers! This page contains affiliate links, which means we may earn a small commission if you click through and make a purchase - you will not pay any extra. More details
here
.
Mowing the lawn has for a long time been one of the most annoying yet necessary weekend activities. First, we had riding lawn mowers and now we have robotic lawn mowers like the Gardena 4069 R80Li scooting around the bushes. The days where you had to put in the effort are almost gone as this model from Gardena certainly takes the edge off. While Gardena isn't as well-known as many other brands like Husqvarna you can rely on a solid build. This is partly because Gardena is owned by Husqvarna. 😉
The biggest question with this particular robotic lawnmower comes when you see it's a rather large price tag hovering around $1500. Thankfully, it is quite clear that this company went the extra mile to make sure that their model stood a few levels above the entry-level options. Just read along to quickly figure out if this option Is right for you.
Design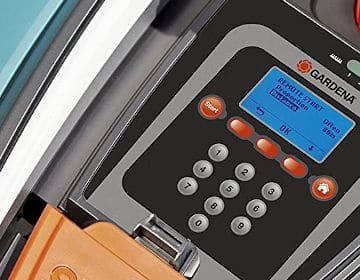 One issue that people have with many robotic lawnmowers is they don't exactly look the part. When you are looking for the futuristic space-age technology that they are. This is not an issue for this model from Gardena as it is one of the finest looking products on the market. From its teal coloring to the stylized lines and smooth grooves you won't find many robotic lawnmowers that look more impressive. Looks can be deceiving though that isn't the case here as beneath the surface there is even more to enjoy.
Weighing in at 16.5 pounds or 7.7 kilograms this robotic lawn mower is surprisingly light. With dimensions of 24 by 16 by 8 this model also has pretty decent dimensions. However, the cutting width is only about 17 centimetres which isn't the most impressive.
Installation
This model has a few benefits over most robotic mowers when it comes to its installation. You will have to do a bit of assembly first along with charging the battery before you are ready to begin. The longest part of the installation though is going to be setting up the boundary wire. It comes with a ruler which helps when deciding how far you need to be from different areas. The boundary wires are relatively easy to set up and are made to be almost invisible after a few grass cuttings. Overall, the process shouldn't take any more than a few hours and once it's done, you're ready to go.
Performance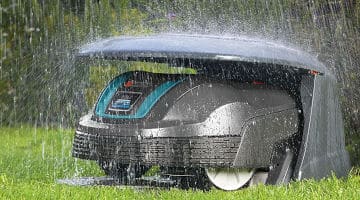 Gardena went an interesting way as far as how this robotic mower performs. Like many other robotic mowers, it uses a seemingly random path to cut your lawn. However, the path isn't really random at all as this mower is not going to retrace its steps. The speed of this lawnmower isn't particularly quick. Instead, it seems that they would prefer you to use this mower to mow your lawn often.  Daily mowing can increase the fertility of your lawn. You can expect about 45 meters squared covered in 60 minutes before it will need to return to the charger. It uses a lithium-ion battery for power and the battery requires 50 minutes to fully charge.
This lawnmower is actually able to work during the rain which is a very rare feature. Though it isn't perfect as the rain will cause the grass to stick to the insides and blades so the efficiency will drop a bit. This little guy is capable of cutting heights between 0.7 and 2 inches which are set with a rotary knob. This means you will have to do some manual adjustments if you're looking for different levels of zone cutting. It is also very easy to use with all of the functionality being accessible through a smartphone app or using the device's front display. You can use these to tell the mower schedules for mowing.
Other Features
This hard-working mower is also equipped with anti-theft protection so no one runs off with your mower while you're on vacation. When the mower is picked up the blades will stop their motion and an alarm will sound until your pin number is entered. This model has an interesting SensorCut system that gives it the ability to cut the lawn evenly in every direction while most lawn mowers will give you long strips this one instead creates a very even look even across the cross-sections.
This mower also has SensorControl (SILENO+) that allows it to monitor your lawn's speed of growth so it only mows when it is required. Finally, you won't find a quieter robotic lawn mower or possibly any type of lawnmower on the market with these models' low 58 decibel sound.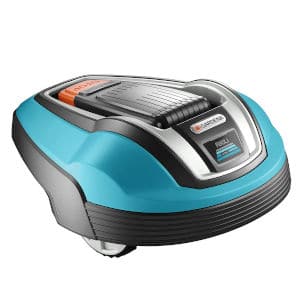 Gardena 4069 R80Li Robotic Lawn Mower Manual
Conclusion Gardena 4069 R80Li Robotic Lawn Mower
Gardena 4069 R80Li Review Summary
Regardless of the price being a bit higher than some of the entry-level models this is definitely an impressive solution. With the ability to intelligently deal with your lawn all of the extra features give it a tremendous value. It is also nice how the boundary wire isn't as visible as some other options.
It even has solid obstacle detection along with the ability to slip between thin avenues. The extra price is quite worth it for this model's ability to make the process almost worry-free while still looking good.