We are an Amazon Affiliate
Our site is supported by you, our readers! This page contains affiliate links, which means we may earn a small commission if you click through and make a purchase - you will not pay any extra. More details
here
.
Welcome back! Here is our Goplus 14-Inch Review! With its conservative stature, weight and powerful engine, Goplus 14-Inch 12 Amp Lawn Mower, make it the perfect choice for those with courtyards or small, flat lawns, who are looking for something economic,  eco-friendly and space-effective. Before we begin, click here to see our Best Of The Best List
Performance
Engine
Goplus 14-Inch, is potent at 12 amps, with a 1200 w motor, meaning that this mower will steam through even long, wet, wide-bladed grass, or even harsh, turgid, dried grass, without skipping a beat or slowing down. Being electric, it's also environmentally friendly and quiet!
Another feature of the Goplus 14-Inch 12 Amp is its dual safety switch ignition, which functions as a safety feature, as well as making the mower easy to start up. No more hard pulls on a stiff cord.
The engine is limited to powering the blade. Leaving the user to propel the mower forward manually. This isn't much of a setback given the mower's size and weight which make it incredibly easy to direct, propel and steer.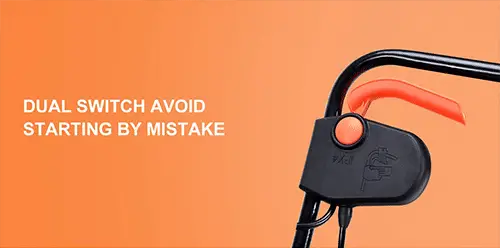 Deck
Firstly, the deck consists of a 14-inch rotary blade. It's size makes it excellent for more specific cutting jobs – such as cutting around tight bends or doing precision cuts, avoiding your prized geraniums.
The blade itself is well-formed – with a sharp edge and decent durability. If gently maintained, will last the user many summers. Leaving you with uniform grass height across your lawn.
Additionally, we're delighted by the Goplus 14-Inch 12 Amp' new flotillas chassis, which is sturdier (because of its composition) and lighter than we were expecting. It's easy to overlook the chassis on a mower, and yet it's crucial, for it is the frame of the whole mower. So, it's nice to be reminded of such an excellent specimen.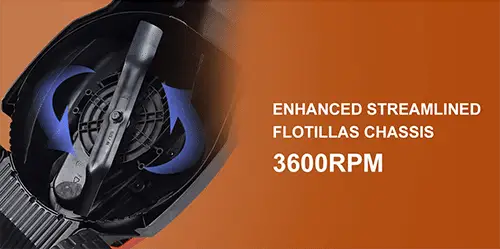 A downside is that it's far from comprehensive with its 3 optional cutting levels at; 1 inch, 1.6 inches and 2.2 inches. Indeed, we don't recommend the first setting on hilly lawns, for the mower may scalp the peaks of the lawn.
Dimentions & Weight
This beautiful mower is also nicely compact at 15.5 x 43.4 x 37 inches, as well as being extremely lightweight at 17.32 pounds, making it simple to manoeuvre on bumpier lawns, as well as moving the mower to and from your garden.
Ease of use
To use the mower first, plug it in. Then simultaneously press the start button and pull the plugin. Finally, release the button and, hey presto, you've started the mower. This is easier than it seems and acts as a safety feature to minimise accidental starts.
The Goplus has adjustable handle height as well as ergonomically curved handles, to make for an easier and more comfortable mowing experience. Additionally, with 5.5-inch wheels, the Goplus 14-Inch has decent manoeuvrability for its size. Though, we would have preferred larger rear wheels to improve cornering. A big plus is that the wheels have three eight positions, so you can adjust the deck height- which also allows for different cutting heights.
Grass clippings
Goplus 14-Inch 12 Amp also comes with the sizable 30-litre grass box which means you should be able to cut your lawn within one fill of the bag. Moreover, it's a hard-top grass catcher, which makes it easier to carry and transfer when emptying the bag.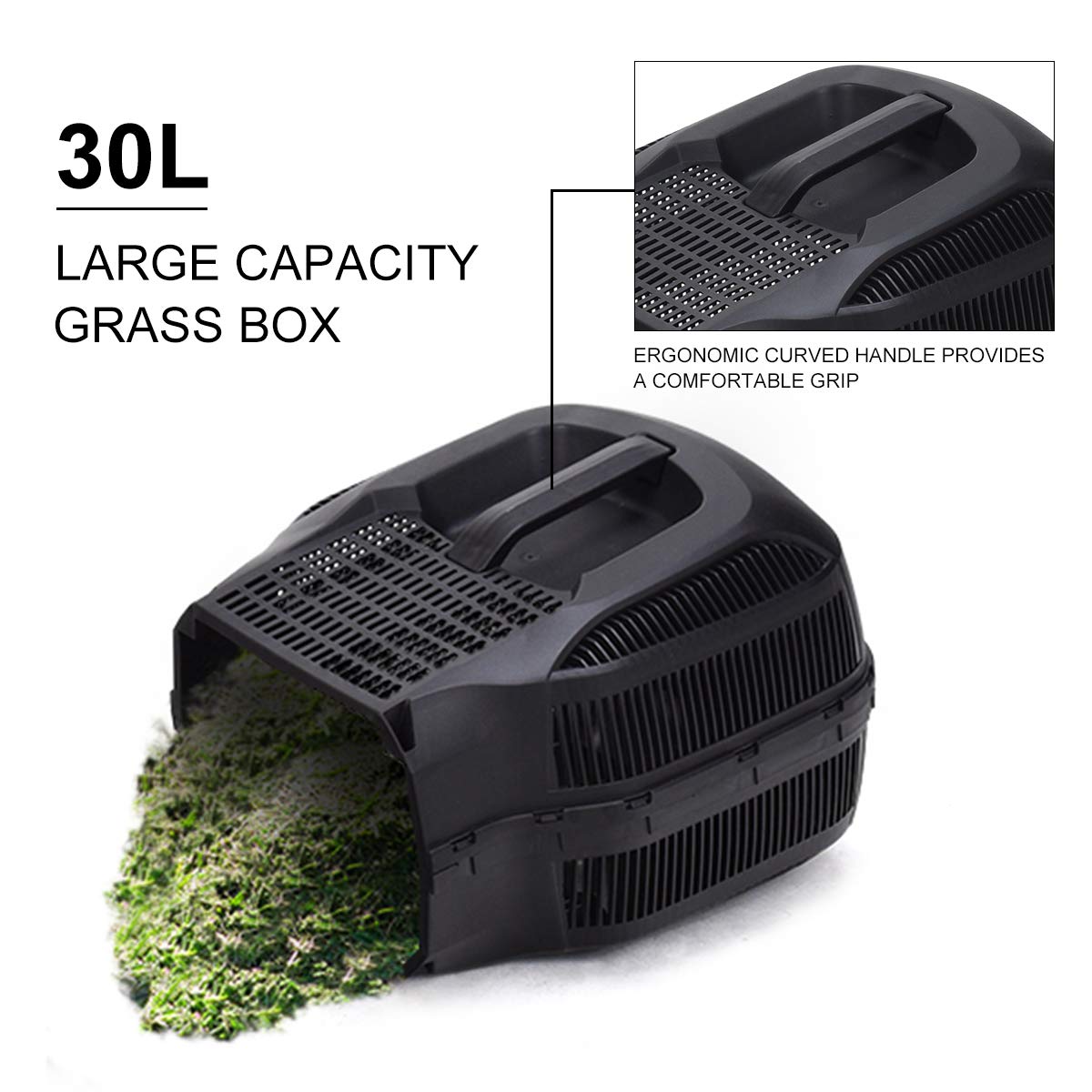 Cost-effectiveness
Of course in my Goplus 14-Inch Review, I can't avoid talking about the price. This is a very cheap mower to run. It only requires a plug socket and you're off. No fuel, No oil and definitely no stress. If you have a slightly larger budget, we would advise you to pay attention to this model or this model.
Maintenance
The mower features a sharp and durable blade, but to increase its lifetime and effectiveness, we recommend washing the blade with a pressure washer after each use. Wet, decomposing grass (except for stray rocks and stones) is the worst culprit in ruining your mower and blade. So, giving the Goplus 14-Inch 12 Amp a brief rinse will pay dividends, long-term. Another maintenance hazard is making sure you don't run over the cord. The best way of making sure you don't is by always mowing away from where the lead is plugged in.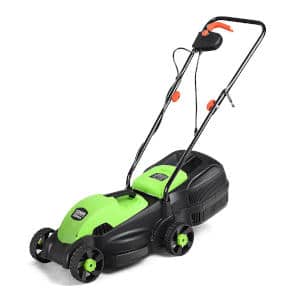 Conclusion Goplus 14-Inch
Summary
We recommend the Goplus 14-Inch 12 Amp for those with courtyards or small, flat lawns, who are looking for something economical, eco-friendly and space effective. It's easy to use with an excellent safety feature to avoid false starts. We rate it 4.5 out of 5!