We are an Amazon Affiliate
Our site is supported by you, our readers! This page contains affiliate links, which means we may earn a small commission if you click through and make a purchase - you will not pay any extra. More details
here
.
Welcome Back! Here is our Sun Joe MJ401E-PRO Review! The Sun Joe MJ401E-PRO 14-Inch is the best light-duty lawnmower we've ever reviewed with its ultra-compact size and super lightweight. Yet, it has this meagre size and weight without scrimping on cutting ease or quality, with a 14-inch steel cutting blade, driven by a 13 amp electric engine. If you'd like to know more about mowers click here
Key features
– Electric corded
– Powerful 13 Amp Engine
– 14-inch single steel blade
– Ultra-lightweight at 29 lbs.
– 48.4 x 40.6 x 40.6 inches.
– Quiet
– 10.6 gal bag and discharge chute
– Manual push propelled
Performance
Engine
Firstly let us start Sun Joe MJ401E-PRO Review by talking about its engine! MJ401E-PRO has a 13 amp engine. Now that might not seem like much, but for its compact size and 14-inch blade, it packs a real punch. You might even think it provides more power than necessary for a blade that size. What we can tell you is that this mower can charge through even densely grass populated lawns.
Secondly, being a corded electric, the Sun Joe MJ401E-PRO has an unlimited run time (provided that there is a power source), as well as giving off no fuel emissions and being super quiet when compared to gas-powered mowers. Which is a huge plus!
Thirdly, it is a manual push-propelled mower, meaning you have to push the mower to propel it forward. The engine is limited to driving the blade. So, you do need to put a little effort into mowing.
Deck
The Sun Joe MJ401E-PRO has a single 14-inch steel rotary blade, with precision cutting and a choice of 3 cutting height positions. (It would also make sense to check out 13-inch mower) It is conservative with its width, thus not suitable for larger lawns. Nor, is it ideal for those who are looking for a greater range of cutting heights. But, this is a light-duty mower, so it's not intended for huge lawns.
Now, the Sun Joe MJ401E-PRO at 29 lbs is ultra-lightweight and at 48.4 x 40.6 x 40.6 inches is quite compact. We're amazed at how light it is, and it's this combination of power, size and lightness that gives this mower its character of being an excellent light-duty mower. We are somewhat concerned about the durability of the plastic deck. It doesn't appear to be the strongest of materials and may cause issues over time. However, we accept that the deck's plastic body contributes to its lightness, so it's difficult to have the asset of one without the liability of the other (without it being substantially more expensive, by employing a composite deck).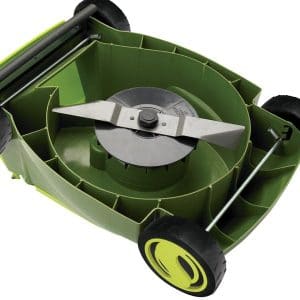 Ease of use
The mower comes assembled, meaning that once you find a power socket, you can get straight to mowing.
The Sun Joe MJ401E-PRO has an unlimited run time (provided a socket) and requires no fuel or oil.
Again, its compact size and lightweight make it a dream to store- in the garage, shed or cupboard under the stairs.
Grass clippings
The Sun Joe MJ401E-PRO has two discharge options – side discharge and bagging. The bag included is a whopping 10. 6-gal bag. For a mower this size, that's a fabulous charm. Most small lawns will be cut within a single bag fill. Moreover, the bag itself is a plastic hardtop at the rear. This makes it convenient when cutting the grass and when you're moving the bag to dispose of the trimmings.
Safety features
The Sun Joe MJ401E-PRO safety features are limited to the standard dead man's lever, which needs to be held down when in use, and if released stops the blade. This is ample for this mower.
Cost-effectiveness
The Sun Joe MJ401E-PRO is super cheap, being electric. You don't need to change the oil or top up the fuel tank. The only permanent cost is a slightly increased electricity bill.
Sun Joe MJ401E-PRO Maintenance
The underside of the deck has gaps where grass clippings can accumulate. This does mean additional work for the user, however, if it isn't cleaned the mower will smell, and the clippings will damage the mower, as they decompose. There are also clear gaps near the wheel axles, meaning that grass discharge builds up there as well. This is far from ideal. On the upside, because it is so open, it also means a pressure washer can easily wash the discharge out. Additionally, when you're mowing, just make sure you're cutting away from the cord, rather than towards it. This will minimise the chance of catching the cord and damaging it. Besides this, there is no additional maintenance. It's electric so there's no oil to change nor petrol to top up.
If you haven't yet seen it – please check out our lawn mower buying guide as well as some helpful tips on how to keep your grass healthy!
Sun Joe MJ401E-PRO Lawn Mower Manual
Conclusion Sun Joe MJ401E-PRO Lawn Mower
Summary
This is a light duty mower, best for small lawns, for touch ups and tidy ups. This is an ideal mower for those who are hard pressed for storage space and those who are environmentally and sound conscious. We love it and rate it 4 out of 5 all things considered. But, to be fair to it, as a light duty mower, it's a 5 out of 5.