We are an Amazon Affiliate
Our site is supported by you, our readers! This page contains affiliate links, which means we may earn a small commission if you click through and make a purchase - you will not pay any extra. More details
here
.
Welcome back, dear user! Here is our Sun Joe MJ400E Review. If you want a compact, electric mower that packs a punch and is inexpensive, then the Sun Joe MJ400E 12-Amp 13-Inch Electric Lawn Mower is for you. At 12 amps, with an instant start, weighing in at 22 lbs and a 13.4-inch cutting width- as well as bagger option, the Sun Joe MJ400E is a light-duty mower to be reckoned with. Want to know more? Then continue reading Sun Joe MJ400E Review. If you already avert to this beautiful mower, perhaps our Best Of The Best collection can satisfy your needs!
Key features
Performance
Engine
The Sun Joe MJ400E features a roaring 12-amp motor that will perfectly get through even tough and wet lawns. The engine itself is an instant start, so you won't get flustered turning it on.
The engine is a plug-in electric, which makes it easy to start using. It doesn't first require any oil or fuel. Further, being electric it's environmentally friendly and quiet.
Deck
Firstly, the Sun Joe MJ400E has a 13.4 inch cutting path, provided by a single, durable rotary blade. For a mower this size, the width is to be celebrated for it allows the user to cut their lawn faster, without any additional strain of a larger or heavier mower. Secondly, at the fabulous 22 lbs, we're almost worried the Sun Joe MJ400E might float away in the breeze, it's so light. On top of that, it's also quite compact at 59.1 x 15.8 x 40.2 inches, which aids in storage and in mobility. Thirdly, the Sun Joe MJ400E has 3 cutting heights to select from, at 0.98 inches, 1.77 inches and 2.56 inches. Admittedly, that's far from an exhaustive range of heights. If you wanted a longer lawn at say above 3 inches, this mower wouldn't be for you. However, most users aren't so discerning and picky about varied cutting heights and just want a short and tidy lawn.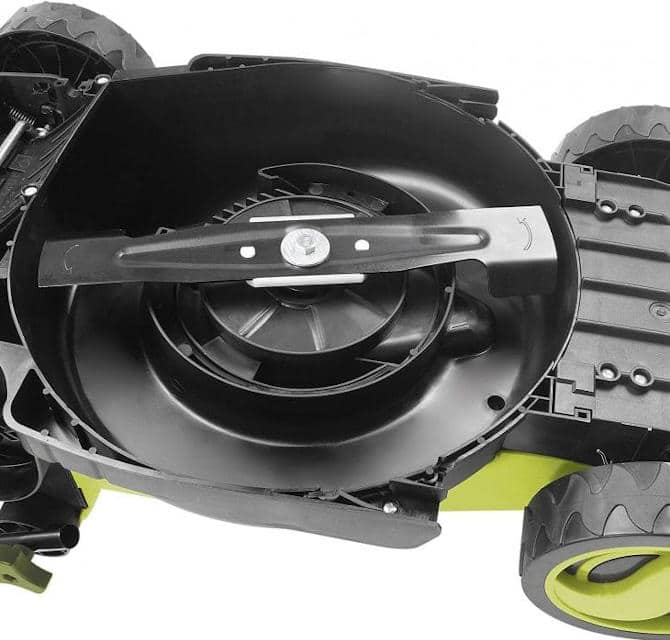 Ease of use
To start off, the Sun Joe MJ400E has an instant start button, which makes it easy to start and use. It's a feature great for those who might struggle to pull a ripcord. Being lightweight and compact it makes for easy storage, as well as straightforward moving of the mower to and from the lawn. It's also very easy to change between the 3 clipping position heights.
Grass clippings
The Sun Joe MJ400E 12-Amp 13-Inch Electric Lawn Mower seems to feature mulching, as well as the large 9.2-gallon rear collection bag, which allows for easy disposal of grass trimmings. Simply detach and empty into a bag or bin. The additional feature of the grass indicator window, which allows the user to see how full the bag is. It's a wonderfully simple little feature that many manufacturers can't be bothered to put in but is really appreciated when mowing.
It's terribly inconvenient to have a mower start to mulch the clippings because the bagger is full- and often when the bagger is attached this causes the mulching to be less efficient and come out in clumps. This is not something you have to worry about with the Sun Joe MJ400E. Now, let's get into the safety features part of the Sun Joe MJ400E review.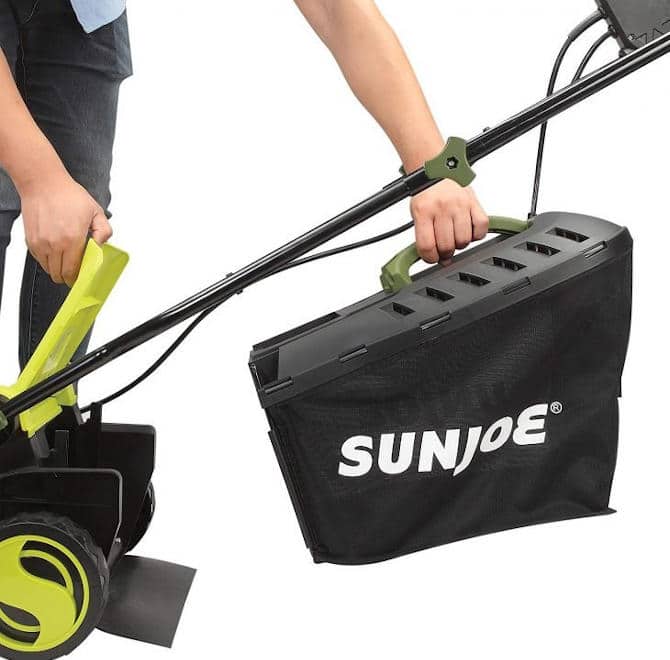 Safety features
The Sun Joe MJ400E comes with the standard dead man's switch, which needs to be held down when in use, otherwise the motor cuts out, stopping the blade. This obviously lowers the risk of accidents.
It also features the instant start button, which doubles as a safety feature minimising the chance of a false start (for instance, some pull-cord start mowers may get caught on something and turn on). Instead, the instant start requires you to push down on a single spot on the handle.
Sun Joe MJ400E is Cost-effective!
The Sun Joe MJ400E is a corded electric, so it doesn't require you to buy petrol or replace the oil in the engine. All it needs is a plug socket and you're off. Because of this sparsity, it's incredibly cheap to run. With the only long-term cost being a slightly raised electric bill. If you'd like to know more about cost-effective mowers, check out our Sun Joe MJ401E-PRO review.
Sun Joe MJ400E's Maintenance
As said in an earlier section, the Sun Joe MJ400E is electric, so you needn't top it up with fuel or oil. Instead, we simply recommend giving the blade and deck a brief wash after each use to prolong the mower's life and the blade's sharp edge. Additionally, every 8 to 15 uses, check to see that any nuts and bolts are firm and tight on the mower. For, over time the vibrations from the motor may loosen screws and bolts, which could damage the mower or serve as a safety hazard.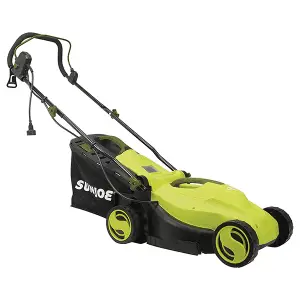 Review Conclusion Sun Joe MJ400E
Sun Joe MJ400E Review
Summary
To sum up, the Sun Joe MJ400E 12-Amp 13-Inch Electric Lawn Mower is a perfect mower for those who want a lightweight, environmental mower, which also provides the cutting width and power, as well as user friendly features (like a bagger with bagging window) that you need to make mowing small, flat lawns a pleasure. We rate it 4.5 out of 5!