We are an Amazon Affiliate
Our site is supported by you, our readers! This page contains affiliate links, which means we may earn a small commission if you click through and make a purchase - you will not pay any extra. More details
here
.
If you live in one of those areas of the world where the winter months mean crushing heavy snowfalls having a snowblower like the Husqvarna ST224P could be very useful. The brand of Husqvarna is well known for manufacturing heavy-duty machinery from motorbikes to snow blowers like this one.
Choosing such a well-established brand is always a solid place to start when shopping in any market. While the brand makes you stop to take a look the features are where this model will really start to shine. Strong snow blowers (like Husqvarna or Honda HS720ASA) are commonly sought after for their power, effort required, and affordability. You will have to read along to find out just how well the Husqvarna ST224P stacks up with its notorious brand.
Engine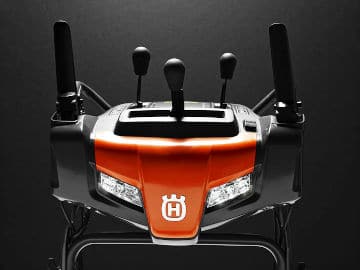 Before we get into all the bells and whistles that make this machine one of the most stand out on the market. You have to start with the heart of the machine which is the engine.
This model is suited up with a 208 CC 4 cycle engine for pretty solid power with 6.3 horsepower. Just about what you would expect to find in a two-stage blower that is compact. An engine like this is solid for dealing with up to around 16 inches of light powder.
When it comes to heavier snow you can expect around a 10-inch maximum. Though you can easily just drop down the gear and retrace your steps. Another nice benefit of this engine is that it takes unleaded gas and does not need the mixing of oil and gas. Finally, these engines are made by LCT (Liquid Combustion Technology) an American company that is one of the best small engine makers out there.
Auger
All that power doesn't matter if you cannot reach the ground but you don't have to worry about that with this Husqvarna model. This is due to a 24-inch clearing width that goes hand in hand with a 23-inch depth. While 16 inches is about the maximum snow it can normally blow, with drift cutters attached this model could possibly reach up to two feet of snow. This model uses ribbon augers that other than looking quite wicked also help it with reaching down to the surface.
The auger is a total of 12 inches which allows it to work well even with more heavy compacted snow. You will find very few models that are more adept at clearing snow with this one capable of chucking fluffy snow 30 feet without breaking a sweat. There is also an adjustable skid shoe for use on the lawn or gravel.
Transmission, Power Steering, and Remote Chute Controls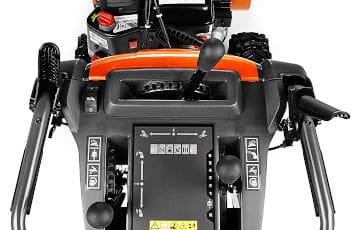 Possibly the coolest aspect of this model is its 6-speed friction disc transmission. In English, this means this model is capable of moving at 6 speeds forward along with one speed in reverse. While the reverse function isn't nearly as quick as the forward function, an easy trigger control allows for quick movements.
This model also has large 15-inch tires with an oversized X-Trac heavy-duty tread for amazing traction even when dealing with icy surfaces. This goes right along with a powerful power steering system that is pretty reliable. Even smaller individuals shouldn't have issues making tight turns when using this blower. You can also affect the entire control system with just a single hand for extremely efficient use.
The chute controls follow the impressive trend with a lever for controlling your side to side motion. It is just as smooth as you would hope it to be sitting on the top of the industry when it comes to usability. There's even an extra lever that lets you control the raising and dropping of your discharge chute. While this doesn't always have a use for it, it can sure come in handy on windy days.
Extra Features
After recovering all the basics has varna went ahead and threw in a few extras for good measure. The electric start is very handy for cold days or anytime you don't feel like pulling a tense ripcord. Though you will need your own extension cord for it. Another feature is the 2 LED headlights that should come in quite handy when working through the dark. They aren't the brightest though they should suffice in the majority of situations.
Finally, there is the heated handlebar feature which doesn't quite match up with the rest of the quality. It doesn't get especially hot and when you are wearing winter gloves you might not even be able to tell.
Husqvarna ST224P Review Summary
There is very little to worry about when dealing with Husqvarna in the first place and this model continues to keep up the trend. When you can reliably count on fixing the issues that spring up the three-year warranty and five-year engine warranty just serves as extra icing on the cake. You might save a bit of money by going with the ST224 without the P for power steering but this one certainly provides more value over time.
This model is just about everything you would like to find in a snowblower with solid power, handling, build, and a competitive price. There is hardly enough space to mention it's also adjustable for users of different statures.