We are an Amazon Affiliate
Our site is supported by you, our readers! This page contains affiliate links, which means we may earn a small commission if you click through and make a purchase - you will not pay any extra. More details
here
.
Nobody wants to spend time mowing their lawn as one of the most time consuming and difficult household tasks and that's where the Husqvarna Automower 310 comes in. Society has steadily progressed from push mowers to riding mowers and finally fully automated robotic mowers. Even with these new innovations, there is a large variety of options to choose from. This Husqvarna model stands at the entry-level of robotic mowers but still brings plenty to enjoy.
However, this mower only brushes the surface no pun intended of what robotic mowers are capable of. That won't be an issue for most people though with these models' interesting capabilities. Follow along to find out if this is the right robotic mower for you or if you need to keep searching.
Overview
The Husqvarna 310 Automower is going to be best for those who have a small or medium-sized yard of about 1/4 acre. As long as you fall within those boundaries the Automower can certainly get the job done. With an ability to maneuver through tight spaces and avoid obstacles while being weather resistant this mower is pretty reliable.
Through the use of its Bluetooth Husqvarna Connect HOME app, you are able to control this mower easily with your smartphone. This opens up a wide variety of settings that will allow you to start and stop your mower along with setting up different effects like schedules. You can even throw in a little bit of flair to your mower with snap-on covers available in multiple different colors.
Features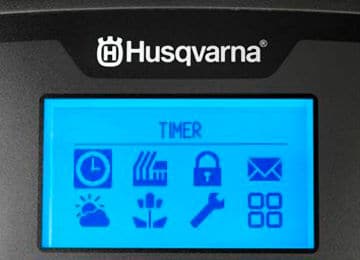 The Husqvarna Automower 310 is suited with a variety of impressive features that allow it to get its job done well. First off, this motor has a spiral cutting feature which it uses to recognize the level of the grass. Upon entering high grass this mower can automatically change its trimming pattern to make sure that you receive an even cut on every use. Next up is balance control which is extremely useful when dealing with slopes.
You can rely on this mower being able to effectively tackle slopes of up to a 40% incline. This model also runs very silently in comparison to a standard push mower. This is due to the electric power source and an efficient motor with low energy consumption. With an electric power source, you don't have to worry about emissions or picking up fuel.
Safety First
There is also a useful feature for safety in this model's ability to automatically stop if it is ever picked up. Along with this, you have an alarm that will sound if it is picked up as well. The alarm will not stop until your PIN is entered. This helps to prevent people from attempting to grab your mower and walk off with it. Another useful feature is this model's easy height adjustment which lets you simply switch between different grass cutting lengths.
While many users will probably operate mainly with their smartphone through the app there is also a graphic display. While the 315 has a larger graphics display that is easier to see the 310 comes with a medium-size display. This model is also weatherproof allowing it to work around the year according to your scheduling.
You can also be a bit more flexible with where you place the charging station in comparison to other models. Many automatic mowers require a set destination or they won't be able to navigate home.
Simple and Efficient
While many mowers are made to cover the whole lawn at once this one prefers to use a more segmented route. It is capable of mowing for 70 minutes on a single charge with a 60-minute charging time. With proper scheduling, you can easily mow your whole lawn in a few hours. This model also comes with anti-collision sensors built in. Many comparably priced entry-level models require an additional purchased add on. A two-year limited warranty is also included so you don't have to worry for at least a bit of time.
Installation
Like many entry-level robotic mowers, this machine will require a bit above work the first time you get it moving. Higher-end models feature GPU mapping so they can easily observe the boundaries of your yard. For this model, you will have to go in first and set up the hidden boundary wires that are included in the kit to let the mower know where to go. This should take up to around 4 hours to complete but once it is done you can pretty much set and forget after the initial use.

Pros And Cons of Husqvarna Automower 310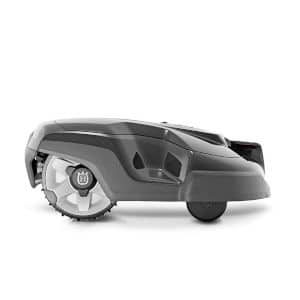 Husqvarna Automower 310 Manual
Review Conclusion Husqvarna Automower 310
Husqvarna Automower 310 Review Summary
There are plenty of solid entry-level robotic mowers but Husqvarna is certainly deserving of being in the conversation. The Husqvarna Automower 310 is extremely capable of working with small to medium size yards. The extra features and amount of customizability make it a pretty decent choice. With a price hovering around $1300 this model sits at about the middle for entry-level options. However, even at that price, it delivers considerable value.