We are an Amazon Affiliate
Our site is supported by you, our readers! This page contains affiliate links, which means we may earn a small commission if you click through and make a purchase - you will not pay any extra. More details
here
.
Welcome back, dear reader! Today you may feast your eyes on our brand new Honda 662300 (HRX) Review! This is quite the mower. A glorious gasoline self-propelled mower's Honda GCV190 190 cc engine is potent with a variable speed quick-release adjustable handle. It's self-propelled so less effort on your part and a nice speed range.
Grass Clippings & Leaf Disposal
It has a FOUR IN ONE grass clippings and leaf disposal – mulch, bag, discharge or leaf shred. Those twin micro-cut blades will make light work of any leaves. Then you've got all the options available for grass disposal. Pick your fancy! Along with these fantastic blades the mower offers the fantastically greedy cutting range of 7 Mowing heights- ranging from the buzz cut 3/4 inches to 4 inches. You can't say this mower doesn't give you choice
Wheels
The Honda 662300, also has 9-inch wheels with rear ball bearings that are designed to offer smooth and consistent movement over uneven terrain. It essentially has hip like sockets. This is a billy goat mower.
Deck
Decent coverage with 21-inch NeXite Deck. The 21-inch size means you'll cover a greater area in a single pass. That means you'll cut your lawn in fewer strips and so much quicker! Sure, you could opt for something bigger like a 30 inch, but what you gain on grass cutting width, you'll lose either on weight (bigger and heavier engine to make the blades spin- obviously), so it'll be a beast that might leave track marks on the grass and be trickier to manoeuvre. OR! The engine is the same size and weight, but the blades won't cut as effectively- they might struggle with wide blade grass or with wet, dense grass.
Dimentions & Weight
All that considered, the 21-inch deck will get the job done. At 44 x 23 x 19 inches it's a slightly chunky monkey mower, but about standard for a 21-inch deck. Also, to aid in storage, it does have collapsible handles, so it tries to make the most of space. We say at 89 lbs. it's on the heavier side, but again it's still perfectly movable. We can also forgive the slightly heavier weight because it's self-propelled. It's not as though you need to manually push it along the lawn. You just hold the handle and off you go. So, we find the prolusion makes up for the extra pounds.
Rust Free!
We should stress in our Honda 662300 (HRX) review the NeXite deck means that this mower is fabulously rust-free without dodging strength. This deck and body are really strong. We're really impressed with this deck.
Start System
It's an electric start because if you want to get a workout you can go to the gym. You're hardly looking to your lawnmower to work your biceps and shoulders out by having you pull a monstrous cord. If you are… then… you can get this mower anyway, because there is a cord you can pull if the electric start is disabled or damaged. We guess Honda really does think of everything.
Honda 662300's Blades

The mower has micro cut twin rotary blades to provide a more even mulch- remember you want your mulch to be next to invisible, small for a better surface area to quicken decomposition and evenly spread to feed your whole lawn,- and not just bits of it. The micro-cut also allows for your clippings to be more effectively collected in the bagger, so you'll need to empty it fewer times.
We even saw it tested on 6-inch grass, on a setting that would cut it down to 3 inches, and whilst it's not a great idea to try your mower on grass that long- it is out of its comfort zone- it actually worked really well. Our team were really impressed
Design of Honda HRX 662300
We found the handlebars were especially neat. They were ergonomically correct and comfortable to your hand. It feels natural and has some give in it, so it absorbs some of the vibrations of the mower. With this mower, you shouldn't have shockwaves travelling up your arms and shaking your teeth out of your head.
Speed of Honda HRX 662300
The Honda is a rear-wheel-drive for assistance on bumpy and hilly terrain. It also has a Select drive engine that offers speeds of up to 4 mph. It's controlled by a dial, so you can find a speed that's perfect for your stride.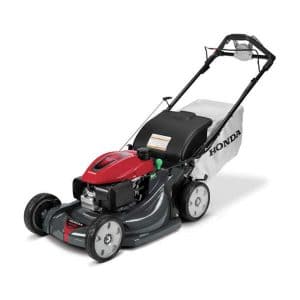 Honda 662300 (HRX) Manual
Review Conclusion Honda 662300 (HRX)
Summary
We should also note that it meets the USA's 50-state EPA and CARB emission levels. So, it's with "acceptable" emissions parameters. But, it's gasoline so you know it's not eco-ideal. If that's your bag we suggest an electric or manual spin mower.
As a rotary mower this machine really sings with its super fine twin blades. As a cool piece of mower tech with 4-in-1 option, it's a mower that prophesies the future. You couldn't do better than this mower for a rotary mower. We give it a massive 4.5 out of 5