We are an Amazon Affiliate
Our site is supported by you, our readers! This page contains affiliate links, which means we may earn a small commission if you click through and make a purchase - you will not pay any extra. More details
here
.
Welcome back, dear reader. Today we'll be looking at Honda 663020. This one is not dissimilar to another Honda mower we reviewed not long ago, and we gave that a phenomenal 4.5 out of 5. This isn't a mystery novel, so I'll spoil the ending (sorry if you were looking for suspense) and tell you we rate this mower, the Honda 663020 170cc Gas powered 21 in. 3-in-1 Lawn Mower, a 4.5 out of 5. It seems Honda really knows how to build lawnmowers. This mower is ideal for small to medium lawns – whether flat or bumpy!
Deck Size & Engine of Honda 663020
This little mower is self-propelled to make your life easier. It's got a 21-inch steel deck twin blade, offering long term mower durability and excellent single pass trimming. It's also pretty powerful at 170 cc OHC 4 stroke. It provides steady and dependable power. The engine is a belt-drive, so if anything does go wrong with it, you'll probably only need to replace a belt.
Dimensions of Honda 663020
But it should last a long time before you need to go about replacing parts. Honda 663020 was built to last. At the compact size of 61 x 22.6 x 40.8 inches with foldable handles for storage management. This mower can fit snugly in the cupboard under the stairs- though we suggest the garage or shed! It's also light for its 160 cc engine and dimensions, at a cool 79.4 lbs. So, don't fear about leaving track marks on your precious lawn.
Honda 663020's Height Adjustable Wheels
Honda 663020 has height adjustable wheels. We do caution you to make sure all the wheels are set to the same height! It's also rear-wheel drive, which means this mower screams up hills. It also features 2 handlebar height settings.
Cutting Height
Honda 663020 also allows you to get artistic with your lawn. Featuring 6 different trimming height options from 1 inch to 4 inches. You could really get some patterns going- or you could just select one height and mow at that, whatever you like.
Clipping Disposal
Regarding clipping disposal, it offers 3 clipping options of mulching (an excellently fine mulch buy the twin blades), rear discharge and bagging. The bag itself is a good size (unlike some of the trays that some bag mowers come with) taking an impressive 67 litres.
Start System & Recoil Starter Grip
This mower has a starter cord (unlike the other Honda which had an electric start) but it has an auto choke easy start system. So, you don't need to worry about the mower being tricky to start because it's got a cord. It's easy- the auto choke really helps. The mower controls are a recoil starter grip and blade control lever (safety feature). If you release the lever at any point the twin blades will cut out. This feature just might prevent you from losing a toe.
Honda 663020's Propulsion Control
The Honda's propulsion control is an adjustable smart drive control. The drive control can be changed to 5 different starting heights- the aim being for you to pick the position that's comfortable on your hands. Once your mower engine is running you gently apply force to the smart drive control handle with the palms of your hands and off the self-propelled mower goes.
Speed Adjustability
Increase the speed by pushing down harder on the smart drive control- the more force applied, the faster the speed. Your speed will vary depending on the height of the grass (and the cutting height you've selected), how heavy (how full) the bag is- if it's attached for that disposal option, and finally the gradient and consistency of your lawn. Bumpy and hilly lawns will affect the speed.
Don't worry about dragging behind it or the mower being too slow. The mower's pace is completely adjustable to your selective, careful and judicious preference (Why shouldn't you be picky? It's your time, Your money, Your lawn and Ultimately, your mower).
Oil & Fuel Access Hub
The oil access and the fuel access hub are both easy to get to. It also comes virtually ready to mow, just top it up with oil and fuel and off you mow (puns intended!). In case you like electrical lawnmowers, I recommend you have a look at Sun Joe 400e or the bestseller from Greenworks. Regarding maintenance. Gently clean the auto choke springs. That'll keep the start easy and smooth. Besides that, clean the blade after every use and make sure the oil is topped up and replace the air filter roughly annually.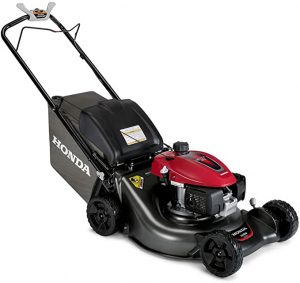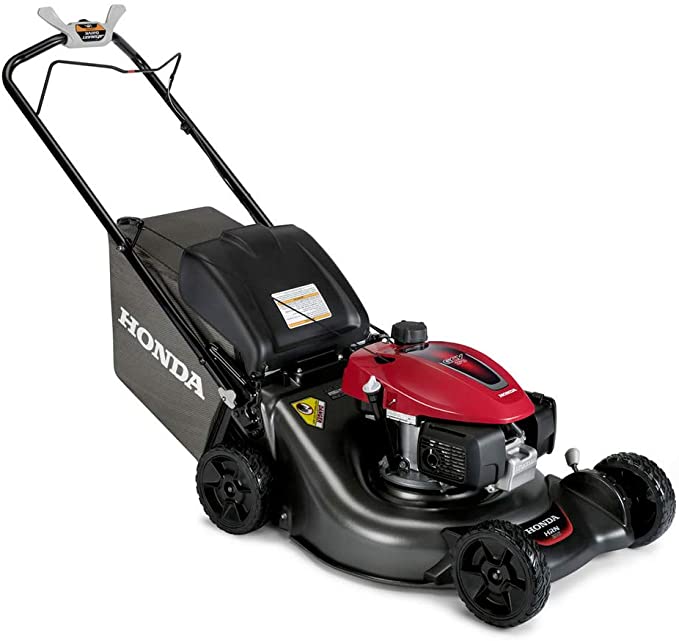 Conclusion
Personally, we would prefer ball bearing wheels. They would give the mower even better handling across bumpy terrain. However, the adjustable wheels are a reasonable substitute (and are much better than if the wheels were fixed to one height).
As I spoiled at the beginning of this review, we give it a 4.5 out of 5. It does what you want a mower to do. It's great for small to medium lawns. It's powerful, lightweight and compact. This is one of our picks for a great rotary mower that won't do you wrong.