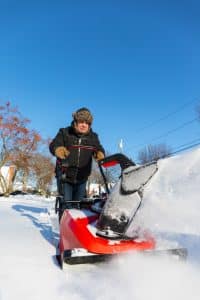 If you own a snow blower, you know that one of the most annoying things about the machine is when snow starts to accumulate and stick inside it. This can not only impact the performance of your machine, but also make it more difficult to clear your driveway or walkway. Fortunately, there are a few things you can do to help prevent this from happening. In this blog post, we'll share some tips on how to stop snow from sticking in your snow blower. By following these simple tips, you can keep your machine running smoothly all winter long. Thanks for reading!
Check the auger before each use to make sure it's not frozen or jammed
Before you even think about starting your snow blower, it's essential that you check out the auger for any kind of ice buildup or jam. While taking an extra couple of minutes to make sure everything is running smoothly may not seem like a big deal now, it could save you costly repairs and long hours of frustration if something does end up getting jammed inside the blower. Plus, it's an easy task that shouldn't take more than a minute or two, so why not save yourself some trouble?
Use a snow blower cover when you're not using the machine
Snow blowers are essential during the winter season. When it's not in use, you don't want snow and ice to collect inside its parts. To minimize any buildup of snow or slush, investing in a snow blower cover is always a smart idea. Not only will this ensure the machine stays clean, it can also extend the life of your snow blower by providing it with extra protection from rain and other weather elements. Once you're done clearing the driveway, invest a few minutes in getting your snow blower covered up so that you can use it again on another snow-filled day!
Keep the snow blower in a dry, sheltered area when it's not in use
During winter, when the snow starts accumulating, having a reliable snow blower on hand can be handy. To ensure your snow blower is always in optimal working condition and remains free of any unnecessary buildup of snow, one of the best methods for upkeep is to store it in a dry, sheltered area. This could mean having it stored in an enclosed garage or shed that is moisture-free, to keep any unwanted wetness from seeping inside the machine. With proper storage and maintenance, you can prevent any unnecessary problems from taking place and have your snow blower functioning as intended each time you use it.
Empty out the snow after each use so it doesn't have a chance to melt and refreeze inside the machine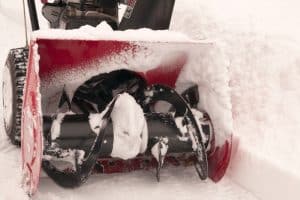 If you own a snow blower, it's important to empty out the snow after each use to avoid any buildup inside the machine.
Snow can melt and refreeze inside the machine, creating bigger problems in the future, which nobody wants! Taking just a few minutes to clear out any snow caught in the blades, skids and chute will help ensure your snow blower remains running as good as new for years to come.
Follow the manufacturer's instructions for maintenance and care of your snow blower
Maintaining and caring for your snow blower properly is key to getting the most out of it. Whether you're new to owning a snow blower or a seasoned veteran, it's important to always follow the manufacturer's instructions for use. This not only helps keep your machine operating optimally but also safeguards against any potential problems such as snow accumulation or sticking. Doing so can help prevent annoying issues such as clogging and make sure that your snow blower runs more smoothly, even in the harshest of winter conditions.
Taking care of your snow blower is key to making sure it lasts a long time
While that means regular maintenance, it doesn't have to be tedious or expensive. The tips outlined in this article – from making sure the auger is free and clear before each use to checking for wet spots or refreezing around the chute after each storm – can help you keep your snow blower running well for years to come. By following these easy steps and taking moments to check for problems after each use, you'll be able to go out there and break free of winter's chill with a reliable machine!