We are an Amazon Affiliate
Our site is supported by you, our readers! This page contains affiliate links, which means we may earn a small commission if you click through and make a purchase - you will not pay any extra. More details
here
.
Welcome back, dear user! Here is our Greenworks 25012 review! Another exceptional mower by GreenWorks! Like all GreenWorks products, this mower has a zero carbon footprint and the Greenworks 25012 is all the better for it. The Greenworks 25012 18-Inch 12 Amp Corded Electric Lawn Mower is lightweight and compact, with an engine that offers solid, dependable power and wholesome clean energy, as well as 2 different grass discharging options. We know lots of electric mowers, especially plug-ins, are made cheaply and poorly. But this mower is one of the great exceptions! A really great bit of kit. The ideal mower for small flat lawns.
Key features of Greenworks 25012
– Electric
– Corded Unlimited Run time
– 12 Amp engine
– 18-inch steel rotary blade
– Collapsible handles
– Easy start button
– Lightweight manual push mower
Greenworks 25012's Performance
Engine
To begin, the Greenworks 25012 has a 12 Amp Electric Motor that delivers enough power to cut through even the toughest grass. The engine is well built, giving constant power. The mower is a manual push mower, but its lightness makes it easy to manoeuvre. Being electric it's also much quieter than a gas mower, so your neighbours will thank you for not disturbing them on a Sunday as you are touching up your garden. As it's corded, the Greenworks 25012 offers unlimited run time – all you need is a power socket.
The Deck of Greenworks 25012
The 18-inch steel rotary cutting blade gives substantial lawn cutting coverage. The deck's cover is sturdy, meaning this mower can take the beating of a wet lawn. 7 position height adjustment provides an all-purpose range of cutting heights starting from 1 and 3/4-inch to 3 and 3/4-inch, offering you the perfect trim, as well as tackling all grass types.
Further, at 46 lbs it's nice and light, as well as being wonderfully compact.
Ease of use
The Greenworks 25012 makes mowing even easier with the Push start button – this activates the mower's engine with a single touch of a button.
The 7-Inch front and rear wheels make it easy to manoeuvre around uneven terrain- but only up to a point- if the lawn is very bumpy, this mower may struggle. Indeed, we would have preferred larger rear wheels to aid in cornering.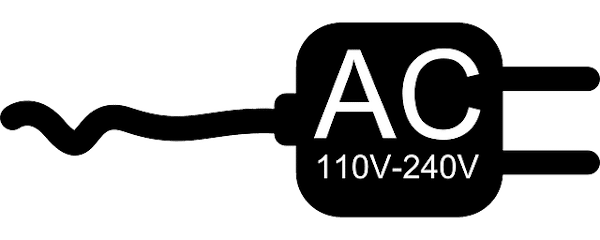 Because the Greenworks 25012 is a corded electric, you never have to change the oil, top the mower up with fuel or charge it- as you would with a gas-powered mower or a battery-powered electric. This mower is set up for immediate usage as long as you have a power socket! Plug it in and mow!
Furthermore, it also comes fully assembled. Getting you straight to cutting your lawn to perfection
The Greenworks 25012 also has collapsible handles to aid in storage.
Your cutting reach is limited by the length of the cord (or length of the cord with extension), hence the limitation to small lawns.
Additionally, the cord can impede your manoeuvring by getting in the way.
Electric mowers can be used on wet grass and often have been, however, some users anecdotally vouch that you should always wait until your lawn has dried. This is all merely personal preference…
It's also relatively ergonomically friendly, though nothing to write home about.
Grass clippings
The Greenworks 25012 has side discharging and mulching options. The mower is set to mulch by covering the side discharge outlet. We're a little disappointed there's no bagger option, however, we let it go because of its petite size.
Safety features
The mower is very stripped back and simple, so it only has and needs the standard safety lever.
Greenworks 25012 is cost-effective!
As well as being eco-friendly the Greenworks 25012 is hugely economic. As an electric mower, you never have to waste time and money on oil and fuel. Indeed, as the mower is so sturdy and well put together it will last you several summers. It'll only make the slightest of dents on your electricity bill.
Greenworks 25012's Maintenance
As an electric, it does not require as much attention as a gas-powered mower. All we recommend is giving it a wash after every use. Though it can happily go beyond. Importantly, make sure you do not run over the cord!
Greenworks 25012 – Best for
The Greenworks 25012 is perfect for small relatively flat lawns. The 18-inch blade provides superb coverage, allowing you to get your grass cut in fewer passes. The 12 Amp engine provides ample power that will make light work of even wide blade grass. And, it's important to stress that if you do have a small flat lawn, you will want a mower like this. A huge gas-powered ride-on mower with 20-inch wheels is too cumbersome and will damage the lawn. It's one of the best lawn mowers under $300.
Pro's and Con's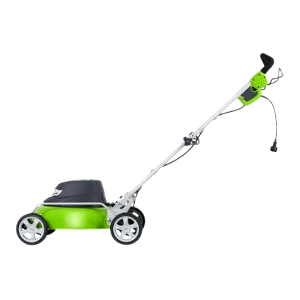 Greenworks 25012 Electric Mower Manual
Review Conclusion Greenworks 25012 Electric Mower
Summary
The Greenworks 25012 performs to an exceptionally high standard, storming through even neglected lawns. That it's carbon neutral and quiet are great. Being lightweight, compact, with an 18 inch reach. We're delighted with the successful performance the Greenworks 25012 permits. We give it a phenomenal 4.5 out of 5!