Gasoline lawn mowers are a popular choice for those who want a robust and durable machine to take care of their lawn. They are available in both push and self-propelled models, and many people prefer them over electric or cordless models.
What's more, gasoline lawn mowers are relatively easy to operate and maintain, and they offer several features that can make your lawn care experience more enjoyable.
They come fitted with either two-stroke or four-stroke combustion engines engulfed in a single cylinder, unlike a motorcycle's 2-4 cylinder engines.
Gasoline lawn mowers with four-stroke cylinder engines produce cleaner combustion, are more efficient, and can produce a more reliable torque and power. On the other hand, two-cylinder engines tend to be more pollutive and burn with a louder noise while consuming a lot of fuel.
If you're looking to invest in a good gasoline mower, consider one with a four-stroke engine. These mowers are more powerful and have a longer lifespan than their two-stroke counterparts.
Safety Features
When purchasing, petrol lawnmowers have several safety features you would want to look out for.
First, a good gasoline mower should have a deadman's brake, which is engaged when the user lets go of the handle. This feature prevents the blades from continuing to rotate after the user has released the handle, preventing accidents.
Another safety feature to look for is a blade-brake clutch (BBC). This clutch disengages the blade when you stop moving the mower forward. This is a valuable safety feature, as it prevents the blades from continuing to rotate and potentially causing injury.
Additionally, check whether your gasoline mower has a handle lever that can easily adjust. This will allow you to adjust the handle to a comfortable position for your height and reach.
You'll also want to ensure that the petrol mower you purchase has a protective guard over the blades. This will help prevent accidents and injuries should the blades contact your skin.
Finally, make sure that the gasoline mower you purchase has a warranty. This will protect you in case of any damages or defects with the product.
When purchasing a gasoline mower, keep these features in mind to get the best product for your needs. Besides checking the physical features, read the manufacturer's instructions carefully before using your new petrol mower. This will help you avoid any potential problems and ensure that you use the mower safely and effectively.
Durability
The durability of your gas mower depends on several factors, including the size of your lawn, the type of grass, and how often you mow. If you have a small lawn and only need to mow once a week, your gas mower will probably last longer.
On the other hand, if you have a large lawn or need to mow more frequently, even a dependable mower might not last as long as you'd expect it to. Gas lawn mowers are generally more durable than electric mowers, but they still require some essential maintenance to keep them running properly.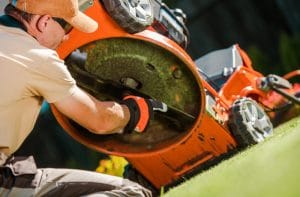 Make sure you always check the condition of the blades, fuel filters, and oil before you start your gas mower. This will help ensure that your mower runs smoothly and doesn't cause any damage to your mower, lawn, or any other property. You also don't want to get harmed in the process.
Size
Gas lawn mowers come in a range of sizes, so if you have a small lawn, you don't need a large gas mower that will be difficult to maneuver. Conversely, if you have a large lawn, you'll need a mower capable of handling the extra work.
The Right Fuel Choice
There are two types of fuel you can use in your gas lawn mower: regular unleaded gasoline or ethanol-blended gasoline. Ethanol-blended gasoline is a mixture of regular unleaded gasoline and up to 15% ethanol.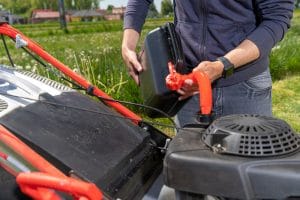 This type of fuel is more environmentally friendly, but it can damage your lawnmower if not used correctly.
If you decide to use regular unleaded gasoline, add a fuel stabiliser to the gas tank. This will help keep the gas fresh and prevent it from damaging your engine.
Push vs. Propel Gas Lawn Mowers
A push mower is the most common type of gas lawnmower. Push mowers have their engine in the back and are pushed forward by you the user. These mowers are commonly preferred by homeowners with small and flat landscapes.
A gas push mower is considered the most powerful among the three main types of push mowers. It is much heavier and sturdier than the electric or the manual reel push mowers making it the most powerful in the group but also the most expensive.
A self-propelled gas lawn mower is a little more expensive than a push gas lawnmower, but it can make mowing your lawn much easier. These mowers have an engine in the front and are propelled forward by the engine. This is a good choice for homeowners who have large or hilly lawns.
Other self-propelled gas mowers have their rear wheels powered instead of the front wheels. The success of this design involves a more complicated process, which is why they are a bit more expensive than the front-wheel powered ones.
Starting Options
Gasoline or petrol lawnmowers aren't all started the same way. When choosing one, you must choose a mower with a favourable starting option that will is easiest for you to improve your safety and the mower's durability. The three main starting options you can consider here are:
Electric Start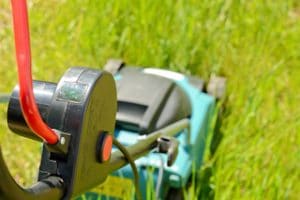 A gas mower with an electric start means using a single push button to turn on the engine electrically. This is the most convenient option as you only need to push a button to get the engine going. However, you need to be extra careful with this type of mower if you have children at home, as they can easily turn it on even in storage.
Electric Start with a Key
Several manufacturers have understood the challenges of an electric button starter and have since developed a better solution.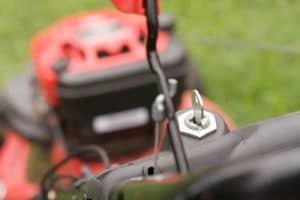 An electric start that uses a key to ignite the engine is a viable option to consider. This is a safer option as it's harder for kids to start the engine. The only downside is that you have to fumble around for the key each time you want to use the mower unless you hang the key high in your shed so you always know where to find it.
Recoil Start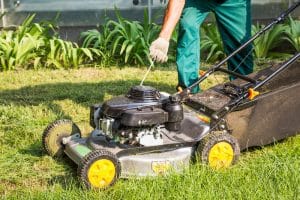 This is probably the most common starting method for gas-powered lawnmowers. It works by pulling on a connected cord to the engine's crankshaft. The crankshaft then turns, and the engine starts. The advantage of a recoil start is that it's more reliable than an electric starter during cold seasons, as it's easier to jumpstart with the help of a choke. The downside is that it can be challenging to pull the cord if you have weak back or shoulder problems.
Height Settings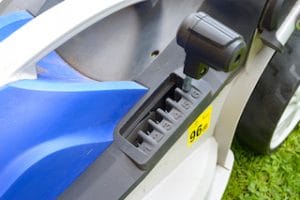 Most gas lawn mowers have three or four different height settings. This is important because you want your grass to be a certain length and don't want to scalp the lawn. The most common height settings are between one and four inches.
Mulching Capability
Mulching your lawn is a great way to fertilise it and save time. Mulching means that the grass is cut into small pieces and then blown back into the lawn. This provides nutrients for the lawn and saves you from raking up the clippings.
Some gas mowers come with a mulching kit that can be installed, while others have the built-in mulching capability. It's best to choose one that best fits your mulching needs.
Cost Range and Budget
Gasoline lawn mowers can range from around $100 to $1000. It all depends on the features you want and the brand you choose. Some of the things that will affect the cost are the size of the engine, self-propulsion, side discharge, and mulching capability.
It's important to find one that fits your budget and has the desired features. Be sure to read reviews before purchasing to get an idea of what others think about a particular model.
Pro's and Con's of Gasoline Lawn Mowers
Tips for selecting an ideal Gas Mower
Knowing the type of gas mower you need and how you'll use it isn't enough. You also need to know what actions to take so you don't fall prey to con business people when picking an ideal gas mower. Here are some tips:
Ask about Warranty Information
When buying a gas mower, it should come with a warranty of at least two years. The engine is the essential part of the machine, and it should have a longer warranty than other parts.
Be wary of Fake Reviews
With the rise of social media, some companies post fake reviews to promote their products. Be wary of these and do your research before making your decision on a particular gas mower.
Check the Engine (if secondhand)
The engine is the essential part of the gas mower, so you need to make sure it's in good condition if you are looking at secondhand mowers. Ask to see the engine start and run smoothly before you buy the mower.
Ask for References
A reputable mower dealer should be able to refer you to two or three previous customers. This shows that the company is reputable and has happy customers.
Get a Written Quote
Get a written quote for the mower when you've decided on a company. This will help avoid misunderstandings later on and minimise the possibility of contract manipulation.